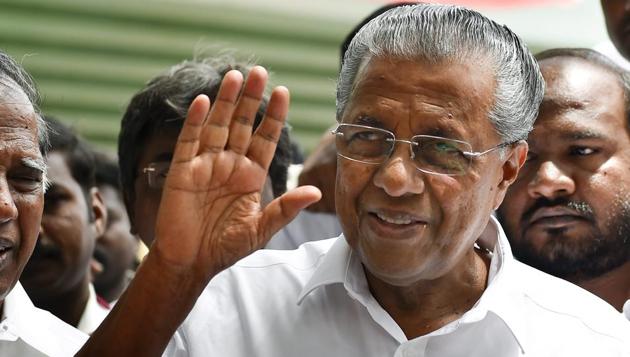 Kerala CM slams Centre for not clearing ministers' visit abroad to raise funds to rebuild state
Pinarayi Vijayan claimed the Prime Minister had given oral permission for the visits of state ministers to foreign countries, "but he did not kept his word."
Thiruvananthapuram | By Press Trust of India
PUBLISHED ON OCT 20, 2018 08:04 PM IST
Kerala Chief Minister Pinarayi Vijayan Saturday slammed the BJP-led NDA government for not granting clearance to the visits of state ministers abroad to raise funds from the Malayalee expatriate community to rebuild the state ravaged by the monsoon fury in August.
In a Facebook post, Vijayan, who is in the UAE as part of government plans to mobilise funds from Non-Resident Keralites, said Prime Minister Narendra Modi "failed to keep his words on the matter."
Vijayan claimed the Prime Minister had given oral permission for the visits of state ministers to foreign countries, "but he did not kept his word."
The clearance for the visits were sought by meeting the Prime Minister directly, Vijayan said.
The PM had responded positively and even said charitable organisations could be approached in these countries, Vijayan said.
However, the ministers were denied permission later, he said.
"Fail to understand why the clearance was denied," Vijayan said.
Attacking the BJP-led government, the chief minister alleged that the Centre also declined to accept funds voluntarily offered by certain foreign countries for rehabilitation work in the state.
Modi when he was Gujarat chief minister had accepted foreign funds to take up rehabilitation works after the Gujarat earthquake, Vijayan claimed.
"The prime minister is taking a different stand in the case of the state," Vijayan said.
The chief minister said the state has to rebuild, and wanted all expartiates to become part of the rebuilding process.
Of 19 cabinet ministers, 15 of them were scheduled to visit 17 countries to mobilise funds from expatriates for flood relief work.
"The union government has given the nod for the visit of chief minister Pinarayi Vijayan,but not yet granted permission for that of the ministers," an official at the chief minister's office had said recently.
The chief minister, who left for the UAE on October 17, is expected to be back by tomorrow.
The state had suffered huge damage in the torrential rains that lashed the state in August, claiming 493 lives and leaving a trail of destruction.
Close