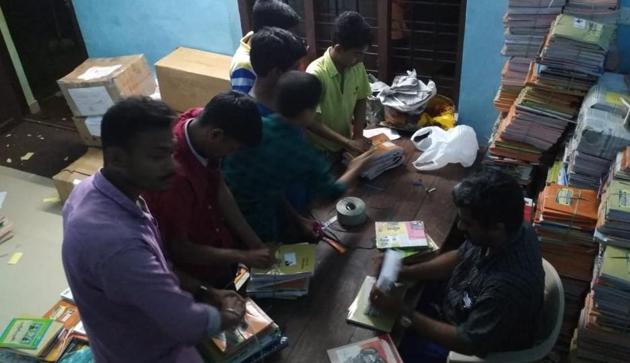 Kerala pens history by writing notebooks for flood-hit children
There has been a silent revolution of letters in Kerala in the past couple of weeks. Notes of various subjects and classes were shared on social media in PDF format. The result has been overwhelming.
Hindustan Times, Thiruvananthapuram | By Yamini Nair
UPDATED ON SEP 04, 2018 12:17 PM IST
A team from Incubation, a Calicut-based education NGO, was on August 14 discussing plans to celebrate Independence Day at Al Ansar orphanage in Kerala's Malappuram. The children at the orphanage suggested that instead of celebrating, they should do something for those suffering in the flood-affected areas of Kerala. They came up with an idea of helping children with the schoolwork they had lost in the floods.
The team spread the message on social media. In no time, it went viral. Individuals, organisations and educational institutions welcomed the idea. Notes of various subjects and classes were shared on social media in PDF format. The result has been overwhelming and by now thousands of books have been distributed.
"The children in the orphanage wanted to do something for those who were suffering. They have limitations and all they could do was some service. When we spread the message, it spread like wildfire and soon we got the response from other districts, states and even abroad," said Incubation's Nabeel Mohammed. The NGO has distributed around 10,000 notebooks in various districts as part of the campaign.
"The idea is to make an individual buy a notebook and write notes of a particular subject for a student, who is in some part of the state traumatized by floods. Nothing can match the love and care that is sent across in the form of a handwritten notebook," said Elias John, one of the coordinators for the initiative.
Over a week ago, the team organised a writing campaign at St Joseph's School in Thiruvananthapuram. More than 300 people took part in it. "Soon, more institutions came forward to hold such events. We could see a never-before enthusiasm from the people who decided to keep aside differences and stand up for the cause," said John, whose team has distributed over 1,000 books. The teams are collecting study material to be distributed among the flood-affected children.
Bapuji Smaraka Vayanashala (Bapuji Memorial Library) in Perumkulam, Kottarakkara, which is spearheading a similar campaign in the southern districts, calls it Keralam Ezhuthunnu (Kerala Writes).
Dr Vijesh Perumkulam, a school teacher, said it was difficult for children to preserve the printouts of just the first term in a file. They may lose it as the academic year progresses.
"Writing the notes in a book would ensure that the students can continue with the same book for that particular subject for the rest of the year," he said.
The team has collected around 3,000 books that were distributed in schools of Kuttanad taluk on Monday. The books are mainly for Malayalam medium government school students.
"You can pay money and get books but it needs one to be humane to write notes on them and give," says Gopakumar B, senior clerk at Taluk Supply Office, Kollam, and part of the initiative.
Irrespective of age and physical barriers, the movement has been getting overwhelming response from all over.
Sandra Somanath, a first-year MBBS student in Alappuzha, who suffers from brittle bone disease, wrote two notebooks. "I can't go out and help people who are suffering. So I grabbed the opportunity to do something within my limitations," she says.
Fatima Asla, a third-year homeopathy student, who suffers from the same disease, says it was like writing notes for her sister or brother. "We are giving them a book also that would help them," says Fatima who has completed writing three notebooks.
Namitha Harish, a former software engineer, who is recovering from a surgery, has written eight.
"Initially I was doubtful if I could finish at least one notebook but I found the exercise so energising," says Namitha from Peyad in state capital Thiruvananthapuram.
Some courier companies offered to deliver consignment worth hundreds of rupees free of cost while the state road transport corporation has been ferrying notebooks from every nook and corner, thanks to its wide network.
"We just did whatever we can to help those kids," said Jose Thomas, a bus conductor, after handing over couple of parcels from Kottayam to volunteers in Kottarakara. A counter had been set up at the bus depot to collect the notebooks sent from various districts.
The teams are still getting requests from people who want to be part of the initiative.
"We are collecting details of the requirements and passing it on to people who are volunteering to help," said John.
Close