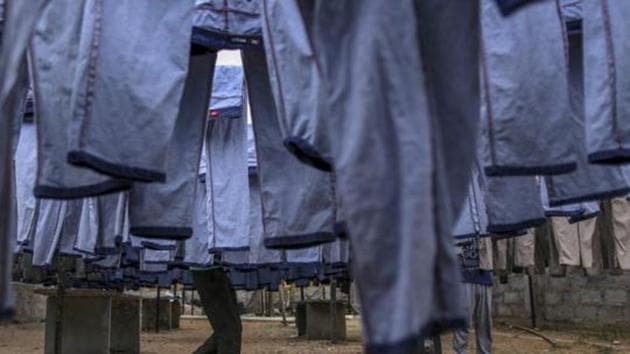 Kerala teacher may face legal action over 'women in jeans' remark
Kerala teacher Rajith Kumar said women in jeans degrade their womanhood, give birth to transgenders.
UPDATED ON APR 04, 2018 06:10 PM IST
The Kerala government on Wednesday said it will take action against a college teacher who said that women who wear jeans will give birth to transgender children.
State health minister KK Shailaja said Rajith Kumar's comments were in bad taste and the government will take legal action against him. "He has been consistently propagating such superstitious notions. The government won't take his utterances lightly. We are mulling legal action against him," the minister said.
In 2013, a group of women students had booed Rajith Kumar, who teaches botany in Sree Sankara College in Kalady (Ernakulam district), after he made misogynist comments at a function in Thiruvananthapuram.
Shailaja asked senior health officials to find out how the controversial teacher addressed a health campaign conducted by the state government in Kasargode on last Sunday.
"A woman who dresses up like a man, what will be the character of the child she gives birth to? The name of the child is transgender. Women who wear jeans degrade their womanhood in the process," he said at the function, much to the shock of the audience. He went on to make disparaging comments about differently-abled and autistic children.
"The children born to rebel men and women have this new disease called autism. To give birth to good and healthy children, parents will have to follow a normal living sans pomp," he said. Later he posted a video on Facebook justifying his comments. "I made a four-hour speech on good living and parenting. Only, a few statements were taken out of my speech to create a misunderstanding among people," he said.
While taking part in a TV show, he claimed that his remarks were based on scientific evidence.
The Transgender Welfare Board too has threatened legal action against Kumar. Board member Sheethal Syam sought an apology from Kumar, saying the board will move court if he doesn't do so.
Close