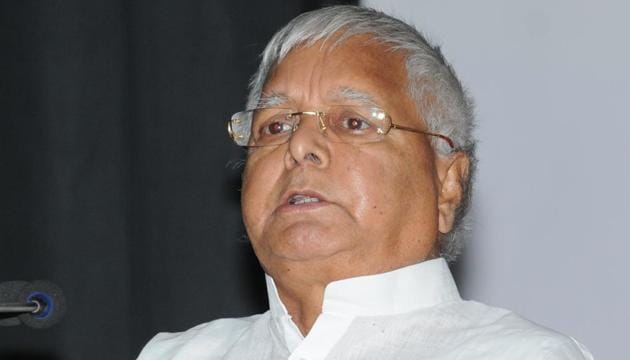 Lalu-Shahabuddin audio tape: BJP says breakdown of law and order in Bihar
RJD chief Lalu Prasad finds himself in another row after a TV channel aired a purported phone conversation between him and murder accused and former MP Mohammad Shahabuddin.
UPDATED ON MAY 07, 2017 01:56 AM IST
Rashtriya Janata Dal ( RJD) chief Lalu Prasad, a senior ally in Bihar's Grand Alliance (GA) government, landed in a fresh controversy on Saturday after a TV news channel launched its operation by airing a purported phone conversation between him and incarcerated former Siwan MP Mohammed Shahabuddin.
BJP has demanded President's Rule in the state, citing complete breakdown of law and order in the state.
The audio tape, in which the don-turned-politician is heard asking Prasad to remove the then Siwan SP "for not doing enough to contain law and order during Navami," has come as a big embarrassment to the RJD chief. It has not only exposed the his proximity to the Siwan strongman, facing over 40 criminal cases, but also brought to fore the big question as to how criminals with clout continue to hold sway from jail.
In the conversation, Shahabuddin is heard telling Prasad that policemen had not been deployed during Navami in Siwan and there was a threat of riot breaking out. "Khatam hai bhai SP (your SP is totally useless). Deekhwa lijiye," Sahabuddin is heard saying in the telephonic talk. But the tape does not mention the day of the call or the place from where it was made.
Shahabuddin is lodged in Tihar jail after being shifted there a couple of months back on the directive of the Supreme Court from Siwan jail. The expose has also put chief minister Nitish Kumar in trouble as it threatens to dent the alliance's claim of good governance.
The Bihar unit of the BJP sought to capitalise on the expose as it went hammer and tongs at the RJD and the chief minister, alleging that the GA government was patronising criminal-turned-dons like Shahabuddin and giving them all freedom to intervene in governance.
"There is complete breakdown of law and order in Bihar. We want President's rule in the state," demanded, senior BJP leader Sushil Kumar Modi.
Modi has also been targeting Prasad in recent months, accusing him and his family of acquiring real estate through dubious means.
Facing the heat, the RJD top brass went into a huddle, with senior party leaders meeting the RJD chief at his 10, Circular Road residence. Senior RJD leader and former MP Jagdanand Singh defended his party chief saying: "There is nothing wrong if he had spoken to Shahabuddin as the Siwan strongman was a member of party's highest decision making body, national executive."
"We will not remove former MP from the party or national executive. He is a senior member of the party," said Singh, as he entered Prasad's residence.
Shahabuddin, whose name also figured in the murder of journalist Rajdeo Ranjan last year and considered a terror in the district, has always enjoyed clout in the RJD since his emergence as a don-turned-politician in 1990s for having formidable muscle power and ability to win votes, especially of the minorities having sizeable population in the Chapra- Gopalganj –Siwan arc.
This is the perhaps the reason, RJD chief has always kept Shahabuddin in good humour, even giving his wife Heena Shahab ticket twice in Lok Sabha polls following the gangster's conviction in the murder of a CPI-ML activist and also defended him at all times despite the latter's brush with the law.
Soon after the grand alliance came to power in November 2015, Shahabuddin got a relief when he was released on bail. But he kicked off a storm when he called CM Kumar as a "chief minister of circumstances"
evoking angry reactions from the JD(U).
On Saturday, the JD(U) tried to maintain distance from the controversy saying the RJD chief should give a clarification on the matter.
Close