Lets Talk About Racism| Reporting on racial attacks reveals an unpleasant truth
May 18, 2017 12:56 PM IST
The students were dismayed at the manner in which some vernacular dailies had quoted allegations of cannibalism from local residents who had called for Africans to leave Greater Noida.
"Please stop publishing such rumours that we people eat human meat," said Alagba Touchukwu, a 24-year-old from Nigeria studying medical science at Sharda University. "You are not helping. Please refrain from publishing rubbish." It was a sentiment my colleague Vinit Koneru and I heard from many African students while we were covering the recent racial attacks in Greater Noida. The students were dismayed at the manner in which some vernacular dailies had quoted allegations of cannibalism from local residents who had called for Africans to leave Greater Noida.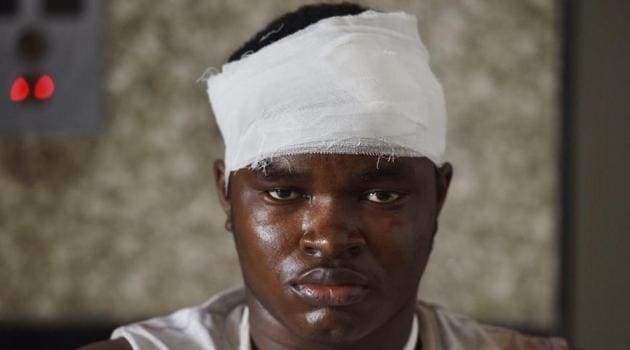 "Even two years back, media had reported that few Nigerians attacked an auto-rickshaw driver and they ate him," said Touchukwu. "One month later, the driver was found alive and well. Do you now understand the damage this does?"
Stay tuned with breaking news on HT Channel on Facebook.
Join Now
Hysteria of this kind led to the evening of March 27 in Greater Noida, where a candle-lit march in sympathy with a gravely ill teenager transformed into an enraged mob that perpetrated multiple vicious attacks on African citizens. A video showing two African students being beaten up by steel chairs and dustbins subsequently went viral. A sleepy industrial suburb suddenly found itself under the spotlight for harbouring what appeared to be a hate crime.
We interviewed scores of local residents, African citizens, police personnel, administrative officials, lawyers and politicians to make sense of this night of chaos.
What struck us was not the question of how a candle march of local activists turned into a bloody riot in a matter of minutes. It was, instead, the realisation that this incident had revealed the prejudice that is all around us. We had seen it in the forms of the caste system and communal bigotry, and now we were witnessing it in the form of racism and xenophobia.
"Indian government will never declare this as hate crime because that attracts immense criticism," said a senior police officer who has been based in Greater Noida. "We live in a country where a Brahmin doesn't consider another caste Hindu as his equal and a backward Hindu doesn't consider Dalits as worthy of living. We live in a society fragmented by hundreds of castes and this attack will also be considered as one among the hundred divides that we have created."
These divides were evident in many of our interviews. Pramendra Bhati, a lawyer representing one of the accused in the rioting, asked us to report "positively" in our stories. Asked how he defined positive reporting, Bhati replied, "You should publish how they eat human meat. We have heard of many such cases where habshees have cut ears of children and eaten them. They are a nuisance here."
We heard the allegation that Africans indulge in cannibalism in numerous other interviews, and we weren't the only ones. Ilma Hasan, a TV reporter for India Today, was continually interrupted while interviewing an injured Nigerian national by a bystander who yelled, "You people cover only them. They eat human flesh!"
In addition to widespread claims of cannibalism, local residents also blame Africans for encouraging 'party culture' in their neighbourhood and for corrupting their children.
"They drive huge cars and drink liquor at public spots, their women wear skimpy outfits and often they indulge in drunken brawls. They sell drugs to our kids. They are well built and they fear no one. We don't want them here," said Bhati.
Fear of the physique and appearance of African citizens seems to be common. Many locals told us that they fear Africans because they are "huge" and it would take at last six to eight Indians to "deal with" one of them. While recounting the vicious attack on the Nigerian brothers, Endurance Amarawa and Precious Amalcima, at Ansal Plaza Mall on March 27, one policeman told us how the brothers survived the severe blows because they were "well built".
These prejudices and fears make it hard for many students to live here. Mukesh Bhati, a local property agent, told us that he provides housing to African and Kashmiri students in vacant towers of unfinished housing societies. This way, he said, they can stay in large numbers without causing much inconvenience to the builders.
"Builder can ask them to vacate the flats when he manages to sell them or if he wishes to develop a planned residential society," he said. "Till the time the building is under construction, it is easy money for the owner if he rents it out."
'Ghost societies' is a common phrase in Greater Noida for the residential complexes that are stuck in the phase of construction for years due to legal tussles and market conditions. Visiting these ghost towers, I've seen hundreds of Africans living in them. Such places are likely home to a large fraction of the population of roughly 4,000 Africans living in Greater Noida.
Read more | 'We won't be bullied by violence': Nigerian students on Greater Noida attacks
Nonetheless, the suburb is an attractive destination for foreign students; there are over two dozen colleges in Knowledge Park. David, a student of African descent at Kiroli Mal College of Delhi University and a resident of the suburb, told us he was dejected over the recent violence and a subsequent order by the police that Africans living in Greater Noida not leave their houses for any reason without a police escort.
"I am acquainted with places such as Munirka, but I have never liked staying in Delhi," he said. "It is full of people. Greater Noida was an isolated yet inclusive place for us because people never interfered in our lives. I like this place"
Since police start permitting Africans to move freely again in Greater Noida in early April, the level of tension in the suburb has been slowly decreasing. Such incidents have still left disturbing memories for African citizens staying in a country that boasts of its divine treatment of guests. It is reasonable to expect fewer students to choose to live in Noida and fewer Africans to study in our country at all.
But more than anything, the attacks have revealed an uncomfortable truth about us that we've been trying to avoid — the truth about our contempt for certain different cultures, disdain for the living and eating habits of some foreigners, and our inability to function as a mutually inclusive society. All this falls under the classic definition of racism, yet we aren't doing much about it.