'Listen to Ladakh': Kharge takes swipe at PM Modi over his 'tall promises'
Jan 23, 2023 01:56 PM IST
Congress president Mallikarjun Kharge criticises PM Modi for not providing constitutional security to the people of Ladakh.
Congress president Mallikarjun Kharge on Monday took a jibe at Prime Minister Narendra Modi for "betraying" the people of Ladakh. Kharge said that PM Modi's government had made "tall promises" and yet failed to provide constitutional protection to citizens.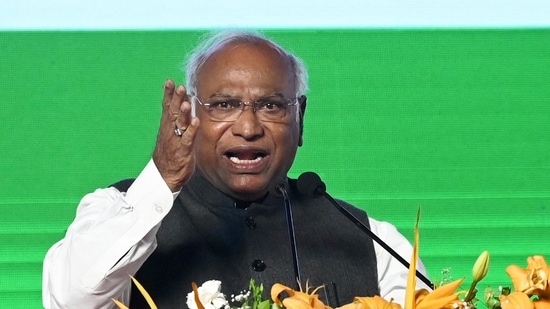 "People of Ladakh are unitedly demanding statehood for the Union Territory, and safeguards for the tribal people of the region under the Sixth Schedule of the Constitution. But your Govt has deceitfully betrayed them, despite making tall promises," the Congress president said in a tweet.
Read| 'F for fail': Mallikarjun Kharge shares report card on education for Modi govt
Kharge further pointed out that the Modi government provides benefits to its "crony friends" by letting them "exploit the eco-sensitive Himalayan glaciers of Ladakh". "In denying Constitutional protection, you are also endangering India's National Security, in a strategic border region," he added.
Earlier, education reformist Sonam Wangchuk announced a five-day fast to steer PM Modi's attention towards protecting the eco-fragile Union Territory. Describing the troubles faced by the locals, Wangchuk said "all is not well in Ladakh" in a video message. The demonstration will be carried out at famous Khardung La, the world's highest motorable road, at -40 degrees Celsius, starting Republic Day.
Watch| Innovator Sonam Wangchuk's 'test run' before fasting for Ladakh at -40 C
As a part of his pre-fasting test run, the 56-year-old innovator gave an update on Sunday after he carried out a sit-in at the rooftop of his home at 11,500 ft above the sea level. ""A test run successful! All's well at minus 20°C. Inching closer to my #ClimateFast at #Khardungla 18,000 ft minus 40 °C starting 26th January... This test was on my rooftop at #HIAL Phyang at 11,500 ft. (sic)," he said on social media platforms.