Lok Sabha elections 2019: In Jaipur, a Olympian battle
Rathore won a silver medal for Double Trap Shooting at the 2004 Athens Olympic — India's first ever individual silver. Poonia, a discus thrower, has represented India at the Olympics thrice.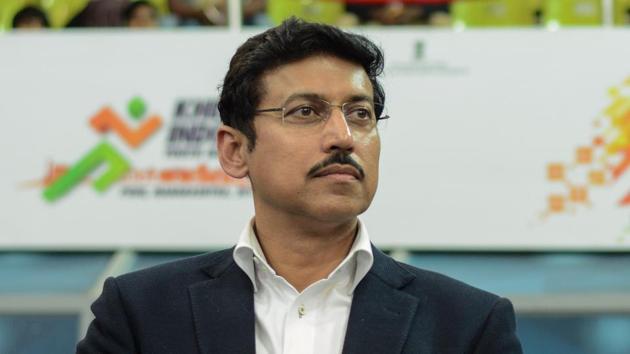 Updated on May 02, 2019 12:17 PM IST
A battle between Olympians is taking place in Rajasthan. Union minister Colonel Rajyavardhan Rathore of the Bharatiya Janata Party and Congress's Krishna Poonia will face each other in the Jaipur Rural constituency, which votes on May 6, in the fifth phase of Lok Sabha polls.
Rathore won a silver medal for Double Trap Shooting at the 2004 Athens Olympic — India's first ever individual silver. Poonia, a discus thrower, has represented India at the Olympics thrice.
In 2014, Rathore won the seat against CP Joshi of the Congress. Last year, Poonia won the Sadulpur assembly seat defeating BJP stalwart Ram Singh Kaswan.
Also read | Lok Sabha elections 2019: Badal to hit campaign trail from Patiala on May 5
An important seat, Prime Minister Narendra Modi addressed a rally here last Wednesday, while Congress president Rahul Gandhi campaigned on Monday. A Jat-dominated seat, Jaipur Rural also has a sizeable Muslim population. Many families, with members in the armed forces, also reside here.
Rathore, the minister of state (independent charge) for information and broadcasting as well as youth affairs and sports, is banking on the trust that people have in Modi. In his speeches, he alludes to the benefits delivered by the centre, such as gas cooking gas connections, houses under the PM Awas Yojana, electricity supply and toilets. On Monday, Rathore addressed a gathering in Sinodiya village, where a group of women complained that they were yet to get benefits such as cooking gas, ration card and drinking water supply.
Also read | Lok Sabha election 2019: BJP will lose badly in UP, says Priyanka Gandhi
Radha Devi, a villager said the water supply in the area was erratic. "There is only one tap for a group of 40 houses." She said that she will still vote for "kamal ka phool" [the BJP's symbol]. The village falls under the Kishangarh assembly seat, which Independent candidate Suresh Tak won in the assembly polls last December. Congress formed a government after securing a majority in the elections.
"Modi's ability and sincerity of work has transcended all caste and creed. Women who don't normally watch TV... they too are talking of the PM," Rathore said.
"Normally MPs give money to villages that voted for them. But I have ensured that money went to every panchayat," said Rathore.
At Tyodh village, Ramdev Chaudhary, who owns a stall, said that the majority of Jats will go with the Congress candidate because of caste affiliation. However, nationalism may influence voters, he agreed.
Rathore alleged the Congress was manufacturing lies on issues such as the Rafale jet deal, Goods and Services Tax and demonetisation and said these allegations won't affect voters.
At a meeting in Manota village in Jamwa Ramgarh tehsil, Poonia tried to connect with the masses by bringing up her rural background — she hails from Hisar, Harayana, but is married to Dronacharya awardee Virendar Poonai, who is from Churu, Rajasthan. "My father ran a dairy. I have milked cows and fed them fodder. Later this farmer's daughter got a chance to get into sports and get ahead in life. I have made the nation proud and need your blessings to serve you and make you proud," she said as the crowd broke into applause.
"Ujjwala scheme [for cooking gas], jobs, black money, Make in India, Swachh Bharat were mere jumlas. Now, they [BJP] are not talking of these issues. Since Congress is giving them a hard time, they are bad-mouthing party chief Rahul Gandhi," she said.
Narayan Bareth, a political analyst, said, being sportspersons, both Rathore and Poonia were campaigning in a dignified manner, unlike other politicians.
Close Story