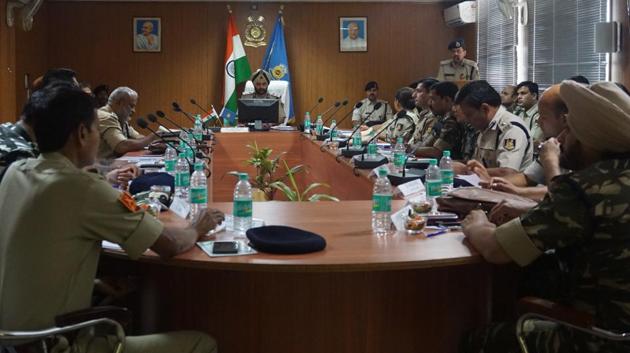 Maintain 'high alert' in Maoist-hit areas of Bihar, CRPF officers told
With 22 of the 38 districts being Left wing extremist-affected, Bihar ranks third among states hit by Maoist violence, according to the Union ministry of home affairs website.
UPDATED ON MAY 10, 2017 10:48 AM IST
PATNA: The inspector-general (IG) of the Central Reserve Police Force (CRPF), Bihar sector, has asked his commandants, including those of its elite Commando Battalion for Resolute Action (CoBRA) batallion to maintain a "high degree of alert" in Maoist-affected districts of the state, following the recent killing of 25 CRPF soldiers at Sukma area of Chhattisgarh.
Addressing a review meeting in Patna on Wednesday, MS Bhatia, IG CRPF, told the commandants to make effective operational plans and discuss strategy against the tactical counter offensive campaign (TCOC), which the Maoists undertake for 3-4 months, beginning March, to target security forces in order to gain ground, regroup and strategise their plan.
With 22 of the 38 districts in the state being Left wing extremist (LWE)-affected, Bihar ranks third among states hit by Maoist violence, according to information available on the Union ministry of home affairs website.
The Maoists have been targeting security forces in sporadic incidents in Bihar. Among the recent attacks, they killed 10 CoBRA soldiers in an IED blast at Madanpur Dumaria Nala in Aurangabad district last July and three other CRPF jawans in an ambush at Dumaria in Gaya in January 2015.
Bhatia asked his officers not to deploy large contingents in forests during the summer. "As the jungles get de-foliated during summer, the troops can be spotted from a distance, making them susceptible to Maoist attacks," he said.
"Stick to the standard operating procedures to avoid injuries and casualties," Bhatia said, while stressing on a strong intelligence network in Maoist-affected areas.
The IG said a joint operation with the state police will soon be launched on Bihar-Jharkhand border. "It will include fortifying camps of security forces, undertaking special intelligence-based operations and ensuring covert tactics," he said.
The IG directed the officers to remain alert and chalk out new strategies to counter the Maoists, especially in case of sudden attacks.
Later, Bhatia distributed DG's disk and commendation letters to officers and jawans.
Close