Major Gogoi, who tied Kashmiri man to jeep, lionised in Assam as medieval war hero who fought Mughals
May 26, 2017 07:18 AM IST
After the Jammu and Kashmir Police refused to quash the First Information Report (FIR) against him for tying a man to the bonnet of his jeep to serve as a 'human shield', Major Leetul Gogoi defended his act by saying that he took the step "to save the people trapped in the polling booth."
Many in Assam have equated Major Nitin Leetul Gogoi, who triggered controversy for using a Kashmiri man as 'human shield', to a medieval war hero who thwarted the Mughal army's bid to conquer the region in 1671.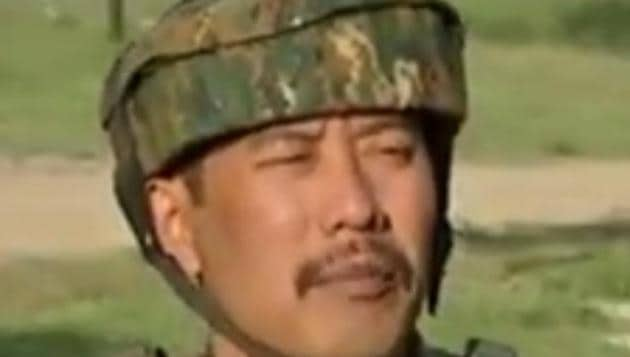 Social media users in Gogoi's hometown Namrup, an industrial town 480 km east of Guwahati, and elsewhere in Assam have proposed inviting and honouring the major for a "feat that has done us proud". Gogoi received a commendation certificate from the army for his role in counter-insurgency operations on Monday.
On Facebook, self-employed Abhijit Baruah said: "Asom gourab Major Leetul Gogoi Zindabad (long live Major Leetul Gogoi, pride of Assam)!"
Entrepreneur Shyam Kanu Mahanta wrote: "Such daredevilry can be only expected from descendants of Bir Lachit Borphukan. Proud of you Major Leetul Gogoi! Keep the flag flying high!"
Gogoi is an Ahom, the community that had ruled Assam for 600 years before the British annexed Assam in 1824. Borphukan was the Ahom general who defeated the Mughals at the Battle of Saraighat – billed the greatest naval battle ever on a river – on the Brahmaputra off Guwahati in 1671.
The allusion to Borphukan is because he had beheaded his maternal uncle for inefficiency in fortifying the base of the outnumbered Ahom soldiers against 69,000 Mughal invaders.
But the army officer's parents – retired fertiliser plant employee Dharmeswar Gogoi and his wife Swarnalata Gogoi – have sought to be left alone because their son has merely done his duty as "is expected of all soldiers".
On Tuesday night, BJP's Dibrugarh MP Rameswar Teli visited Gogoi's house in Namrups' Sector F to felicitate his parents. Officials of the local police station said the parents were not keen on the MP's visit being made public.
Chandan Mili, officer in charge of Namrup police station said the parents want to be left alone. "They are not in the best of health and the sudden media glare has unnerved them. Besides, they are disturbed by rumours that their son's job is at stake," he said.
The youngest of three siblings, Major Gogoi had joined the army as a jawan at 18 and joined the Dehradun-based Army Cadet College nine years later to become an officer. He was commissioned as a lieutenant in December 2008.
Friends recall Major Gogoi as a good footballer. His trainer Tosen Gogoi said the army officer had earned laurels for local and district clubs at state-level football tournaments.