Mandsaur violence: Bountiful yield, plunging prices led to farmers' crisis
Updated on Jun 28, 2017 12:43 PM IST
Farmers blame their plight on demonetisation and the failure of the government to impose adequate import duty on time.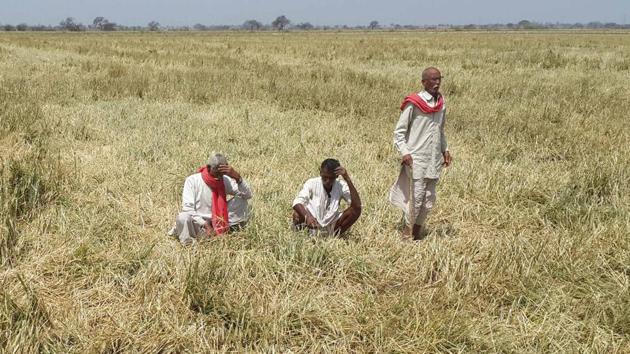 Hindustan Times, New Delhi |
HT Correspondents
The production has been bountiful but the price is measly. Onion was being sold for just Rs 1 in Madhya Pradesh till the state government stepped in to buy, potato is still being sold for 80 paise in Haryana and pigeon pea (tur dal) is fetching no more than Rs 40 in Maharashtra.
The glut and plunging prices is the sum total of the crisis staring at farmers across the length and breath of the country. Last week, matters came to a head after farmer's protest in Mandsaur of Madhya Pradesh turned violent, resulting in six deaths.
Like everywhere else, Mandsaur farmers were agitating after they were forced to sell onions at just Rs1 a kg. The prices are well below what they fetched in 2016: Onion for Rs 1 as against Rs 7, turmeric for Rs 50, half the price in 2016, soya bean at 33% lesser than the rate in 2016 and so on.
Farmers blame their plight on demonetisation and the failure of the government to impose adequate import duty on time.
"Farm economy runs on cash and traders say they have no money to give us. We are forced to sell the produce at whatever price they (traders) are offering," said Jasbir Mamumajra, a sunflower grower from Yamunanagar in Haryana, who blamed demonetisation for his woes.
Most of the agriculture trade used to run on cash, mostly unaccounted money, and on credit. With cash being sucked out, the traders have less liquid asset to take risks. In some places they are seeking a commission of up to 2% to make payment in cash.
A farm trader in India's food bowl of Punjab, Devinder Singh, agrees, saying note-bandhi has disturbed the trade cycle. "Entire trade shifted to no-credit system. It has hit us hard," he said.
An agriculture expert with Bihar government, Anil Kumar Jha, said input costs such as labour, fertilisers and pesticides have gone up significantly this year. "This added to the miseries of farmers, already facing cash crisis due to demonetisation".
Maharashtra farmers, who were first to protest after prices of pigeon pea (tur dal) fell, blamed the Centre for not imposing high import duty on pulses.
"The production cost of the tur per quintal is more than Rs5,000 for farmers. With the Union government allowing the import of lentil at Rs 3,700 a quintal, the farmers are not likely to recover their cost," said Vijay Jawandhia, farm activist and Shetkari Sangathana leader.
Same was the complaint by farmers in Haryana, who have been forced to sell sunflower at Rs 2,500 per quintal as against the minimum support price of Rs 3,950 even though the cost of seeds have increased by almost 50% in 2016.
"We could have been saved had the government increased import duty on edible (palm) oil," said Balwinder Singh, a Karnal-based farmer. However, state government officials blamed poor quality for the low price.
In Asia's largest grain market in Khanna, Punjab, the prices of maize have plummeted with traders like Sanjeev Kumar saying the farmers are bearing the brunt. In Uttar Pradesh, farmers sold wheat at less than the minimum support price, saying government agencies were not willing to buy the produce because of the record production this year.
Wholesale traders in Maharashtra, Madhya Pradesh, Haryana and Uttar Pradesh said the prices of onion, tomato and potato have crashed.
The per quintal wholesale prices of the onion in Maharashtra was down to Rs 600-800 from Rs 1,000-1,250 in 2016. Potato in Haryana was sold at Rs 80 a quintal on Tuesday. Farmers sold onion for Rs 1 in Madhya Pradesh after which the government announced a procurement price of Rs 8 per kilogram.
P Chengal Reddy, founder-chairman of the Consortium of Indian Farmers Associations (CIFA), said: "The Centre takes into consideration the average production of past three years and not the current year's production cost, in deciding the MSP. If it continues, time is not far when farmers across the country will revolt," he said.
Personalise your news feed. Follow trending topics