Manmohan Vaidya, Mukunda CR appointed new RSS Sah Sarkaryavahs
Indo Asian News Service, Nagpur |
Indo Asian News Service
Mar 11, 2018 10:56 PM IST
With these appointments, the RSS now has six Sah Sarakaryavahs -- an all-time high. Suresh Soni, Krishna Gopal, Dattatreya Hosabale and V. Bhaigaih are the other four Sah Sarakaryavahs of RSS
The Rashtriya Swayamsevak Sangh (RSS) on Sunday appointed Manmohan Vaidya and Mukunda CR as its two new Sah Sarkaryavahs (Joint General Secretary) at the valedictory of a three-day Akhil Bharatiya Pratinidhi Sabha (ABPS) here.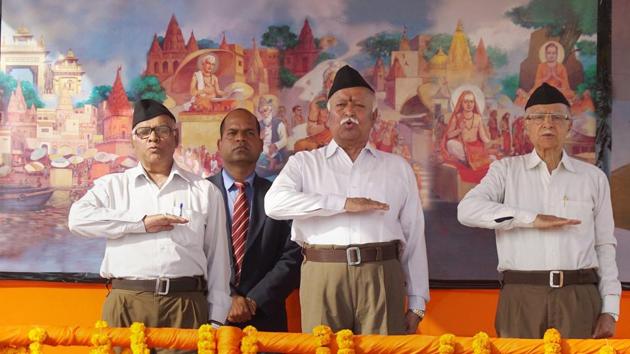 With these appointments, the RSS now has six Sah Sarakaryavahs -- an all-time high. Suresh Soni, Krishna Gopal, Dattatreya Hosabale and V. Bhaigaih are the other four Sah Sarakaryavahs of RSS.
"The names of Dr Manmohan Vaidya and Mukunda were announced as Sah Sarkaryavahs in addition to the current Sah Sarkaryavahs... by Sarkaryavah Bhaiyyaji Joshi," the RSS said in a tweet.
Suresh (Bhaiyyaji) Joshi was on Saturday re-elected as the RSS Sarkaryavah' (General Secretary) by the Akhil Bharatiya Pratinidhi Sabha, the highest decision-making and policy formulation body of the organisation. He will hold the post for three more years.
Sarkaryavah in the RSS hierarchy is the most powerful position after Sarsanghchalak and is the chief executive overseeing the organisational apparatus, including the Sangh's relationship with its affiliates.
Prior to his appointment as Sah Sarkaryavah, Vaidya was the Akhil Bharatiya Prachar Pramukh (communication incharge) of the RSS. Akhil Bharatiya Sah Samprak Pramukh Arun Kumar will replace Vaidya. Prant Pracharak of Jammu-Kashmir Rameshji will be the new Akhil Bharatiya Sah Samprak Pramukh in place of Arun Kumar.
Besides, the RSS also appointed the Prant Pracharak of Kashi, Anil ji, as the new Kshetra Pracharak of East Uttar Pradesh and Sah Prant Pracharak of Avadh. Kshetra Pracharak of East Uttar Pradesh, Shivnarayan, will now handle the Prakashan Vibhag at the RSS headquarters.
Atul Limaye will be Kshetra Pracharak of Paschimi Kshetra and Anil Joshi will be Bouddhik Pramukh while Pramod Bapat will be Prachar Pramukh of Paschimi Kshetra.
Meanwhile, addressing reporters after the concluding session of the three-day meet, Bhaiyyaji Joshi said that the meet expressed satisfaction over the progress of RSS work and activities across the country.
"Our acceptance is increasing in society. Now people are more enthusiastic to know about the RSS and want to join us," he said.