Many feared trapped as 4-storey building collapses in Lucknow
Updated on Jan 25, 2023 12:35 AM IST
Lucknow: At least 30 to 35 people were feared trapped after a four-storey residential building collapsed in Lucknow on Tuesday evening, senior government officials said, adding that at least nine people have been rescued and sent to hospitals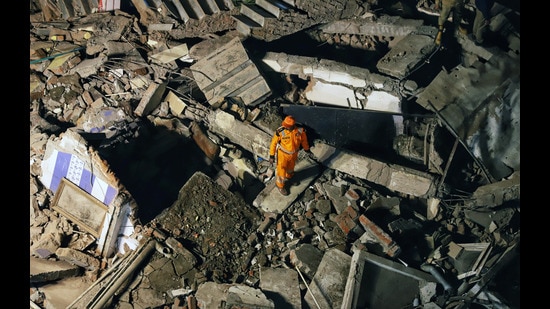 Lucknow: At least 30 to 35 people were feared trapped after a four-storey residential building collapsed in Lucknow on Tuesday evening, senior government officials said, adding that at least nine people have been rescued and sent to hospitals.
"The incident took place around 7pm. Nine people have been rescued while no casualty has been reported," said Sanjay Prasad, principal secretary (home), Uttar Pradesh government.
While the reason for the collapse of the residential building — Aliyah Apartment — in Hazratganj area could not be ascertained immediately, preliminary reports indicate some construction work was going on in the building's parking lot. The building had 12 flats and two penthouses on the top floor.
"Probe will be conducted to ascertain the reason for the collapse," Prasad added.
Though there were no reports of casualties till late in night, chief minister Yogi Adityanath has directed officials to ensure adequate treatment is provided to the injured. He has also issued directions to hospitals to stay alert, a senior official said.
"Eight families were inside when the building collapsed. As per our estimate, 30-35 people should be (trapped)," director general of police (DGP) DS Chauhan was quoted as saying by ANI. "The CM is monitoring the situation. Rescue operation is on."
Army personnel, along with teams of NDRF and SDRF have been deployed for the rescue operation, which continued till late in the night.
Meanwhile, the incident triggered panic in the area as power supply of adjoining buildings was cut off. The 13-year-old building was constructed by the Yazdan developer, the same builder whose "illegal" under-construction apartment on Prag Narayan Road in the city was demolished by the Lucknow Development Authority in December last year, an official said, requesting anonymity.