Maratha protesters plan 'Jail bharo andolan' in Mumbai today to demand reservation
Mumbai police said adequate security arrangements have been made to maintain law and order during the Maratha agitation.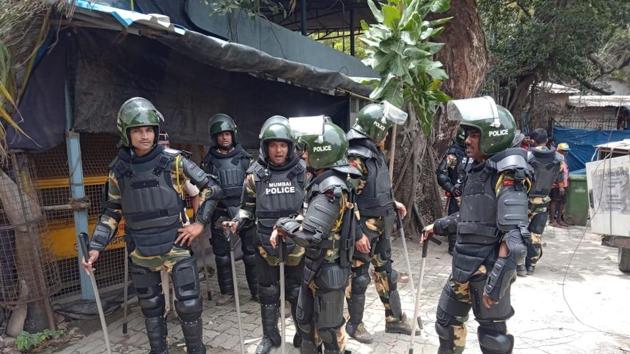 Updated on Aug 01, 2018 12:15 PM IST
Maratha outfits in the state have announced that they will launch a 'jail bharo andolan' on Wednesday morning to press for reservations in government jobs and education.
According to a press note, the Maratha Kranti Morcha (MKM) will take up this particular mode of agitation – which involves crowding of prisons – at Azad Maidan in Mumbai. About 150 members of the community will stage the protest, taking every precaution to ensure that there is no intrusion by "outsiders".
"We have provided the police with names of those participating in the protest to prevent unscrupulous elements from hijacking the protest. We will stage the andolan in a peaceful manner so that no more police cases are registered against the protesters," said MKM coordinator Amol Jadhavrao.
Jadhavarao said his group decided to stage the jail bharo agitation after it came to their attention that some coordinators involved in previous protests had joined hands with the government. "We found that these individuals entered into negotiations with chief minister Devendra Fadnavis. Congress MLA Nitesh Rane named some of them on the social media. After that, we decided to go our own way. We will not compromise with the government until all our demands are fulfilled," said Jadhavrao.
The demands put forth by the MKM include a governmental decision on the Maratha quota at the earliest; withdrawal of cases against protesters; action against officers responsible for firing and lathi-charge during the July 25 protest; sacking of politicians who made "irresponsible" statements on the community; farm loan waivers; and justice in the Kopardi rape case. They also want due compensation for those killed or injured in the protests.
Another Maratha outfit – the Sakal Maratha Morcha (SMM) – has also lent its support to the agitation. "The state government, despite its assurance of withdrawing criminal charges of vandalism and damaging public property against some protesters, has not taken any action. This is why we are holding the protest Mumbai tomorrow," said SMM leader Praveen Patil.
Mumbai police said adequate security arrangements have been made to maintain law and order during the agitation. Security has been beefed up in other parts of the state too.
Jadhavarao said the government has shown little other than tokenism in the all-party meet conducted late mast month, and there was still no official order in this regard.
On July 27, Fadnavis had invited party leaders of both the houses to a Vidhan Sabha meeting aimed at discussing the ongoing Maratha stir. He also chaired a meeting with BJP ministers and party legislators from the Maratha community to discuss the issue.
An MKM activist had succumbed to injuries suffered in clashes between police and protesters in Navi Mumbai on Monday. While two people have ended their lives to press for the reservation demand, another protester who attempted suicide is undergoing treatment at a hospital.
The protests were largely calm on Tuesday, with 500 police personnel deployed in Chakan near Pune, which bore the brunt of the violence on July 30.
"What is going on in the state today is deeply disturbing," Fadnavis said of the ongoing agitation. "If we look at reservations only from an emotive angle, we will succeed only in fanning anger in the community. But, if we have to ensure reservation to the community, we must understand its legal aspects. Our stance is that reservation must be legally sound."
A 1992 Supreme Court order had stated that "extraordinary circumstances and evidence of social backwardness" of the community concerned must be shown if reservation is to be hiked over 50% per cent. Fadnavis said his government has set up a backward class commission to ensure reservation for the community based on this evidence.
The Congress-NCP government granted 16% reservation to the Maratha community in 2014, but it was struck down by the Bombay high court. No relief was granted by the apex court either.
The high court is now awaiting the backward class commission's submission on the matter.
Close Story
Personalise your news feed. Follow trending topics