Modi calls increasing screen time worrying, suggests 'tech fasting'
Jan 27, 2023 04:50 PM IST
Over 2,000 students, teachers and parents from across the country attended Pariksha Pe Charcha at Delhi's Talkatora Stadium on Friday
Prime Minister Narendra Modi on Friday expressed concern over increasing screen time and called it a "worrying trend" while suggesting students observe "technology fasting" at regular intervals, and demarcate technology-free zones in their households.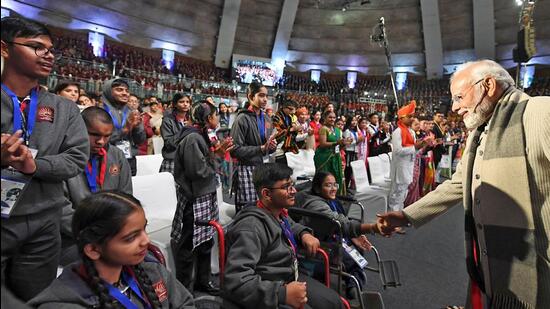 "As per a study, the average screen time for an Indian is up to six hours. In such a situation, gadget enslaves us…One should not avoid technology but restrict oneself to the things of utility as per one's need," he said at the sixth edition of his annual Pariksha Pe Charcha interaction with students, teachers, and parents ahead of the board examinations.
Over 2,000 people from across the country attended Pariksha Pe Charcha at Delhi's Talkatora Stadium on Friday. Thousands attended the event virtually. Around 3.8 million students, teachers, and parents from 155 countries registered to participate in the event this year.
Modi said technology-free zones will lead to the enhanced joy of life. "...you will come out of the clutches of slavery of gadgets."
Modi said there is nothing wrong with family expectations but if they are related to social status, then it is concerning. He was addressing queries of some students on how to deal with such expectations about the results.
Modi cited the example of cricket, where spectators keep on rooting for fours and sixes. He added a batsman, who goes out to bat, remains unperturbed even after so many people want a six or a four. "The pressure of expectations can be obliterated if you remain focused," he said.
Modi asked parents not to burden their kids with expectations and students to always evaluate themselves according to their potential.
He asked students to give importance to time management in general life with or without exams while addressing questions about not knowing where to start the preparations for the tests and the stress leading to forgetfulness. "While allocating time to a subject, one should take up the least interesting or most difficult subject when the mind is fresh. Instead of forcing one's way through, students should tackle the complexities with a relaxed mindset."
Modi gave the example of smart work by highlighting the parable of the thirsty crow, who threw stones in a pitcher to quench thirst. He said this in response to a question from a Kerala student about hard versus smart work.
Modi emphasised the need to closely analyse and understand the work. He highlighted the moral of the story of working hard smartly. "Every work should be first examined thoroughly…Everything cannot be achieved with hard labour."
Modi appreciated the need for having a realistic assessment of oneself. He said once this realisation is there, appropriate goals and skills should be set. "Knowing one's potential makes a person very capable," he said, responding to students, including of Jovita Patra from Gurugram, who asked about doing well in exams as an average student.
"We should never be under the pressure that we are average...even if we are average, there will be something extraordinary in us. All you need to do is to recognise and nurture that."
He responded to a query on how he deals with the criticism, saying he believes it is a "purification yajna" and the "root condition of a prospering democracy."
He said it is important to note who is critical of one's work. Modi highlighted the importance of labour and research in being a critic.
Modi referred to short-cuts and said most people level allegations rather than criticise. "There is a huge gulf between allegations and criticism," he said. He said one should not mistake criticism for allegations. Modi asked parents not to get into the habit of interrupting kids.
Modi said the main reason for stress after exams is not accepting the truth of whether they went well. He was addressing questions from Jammu student Nidah about channelising the stress from not getting the desired results despite hard work.
Modi described competition among students as "stress-inducing". He suggested students should live and learn from themselves and their surroundings while strengthening their inner capabilities. "One exam is not the end of life and overthinking about the results should not become a thing of everyday life."
Modi called unfair means in the exams a "dangerous trend". He asked students to refrain from wasting time in finding ways and preparing cheating material and to spend that time in learning. "In these changing times, when life around us is changing, you have to face exams at every step," he said.
"Life cannot be successful with cheating. You may clear an exam or two but it will remain questionable in life."
Modi asked the hard-working students not to despair over the temporary success of the cheaters. He added hard work always benefits. "Exams come and go but life is to be lived fully… Shortcuts will cut you short."
In response to questions about learning more languages, Modi highlighted India's cultural diversity and rich heritage. He said it is a matter of great pride that India has hundreds of languages and thousands of dialects.
Sunanya Tripathi, a teacher from Odisha, asked Modi about motivating students and keeping classes interesting and disciplined. Modi responded by saying teachers should always promote curiosity among students as it is their big strength. "…instead of humiliating weak students, teachers should reward strong students by asking questions."
Modi said parents should not limit the scope of the behaviour of students. He advised parents to encourage their children to travel after exams and record their experiences. "After class 12 exams, they should be encouraged to go outside their states. Keep pushing children for new experiences."
He concluded his address by urging parents, teachers, and guardians to dilute the stressful environment being created during exams to the maximum extent. "The exam will be transformed into a celebration, filling the lives of students with enthusiasm...it is this enthusiasm that will guarantee the excellence of students."
Aditi Sharma, a class 10th student from in Gurgugram's Kendriya Vidyalaya who attended the event, said Modi asked them to work smartly and identify their potential. "I will focus on each and every piece of advice he has given us while preparing for exams."