PM Modi rings in new year with mini-budget of sops, focuses on poor
Updated on Jan 02, 2017 02:31 PM IST
In his speech aired on Doordarshan at 7.30 pm on Saturday, Modi announced a range of schemes ranging from housing loans for the rural poor to a substantial hike in credit guarantee for small entrepreneurs.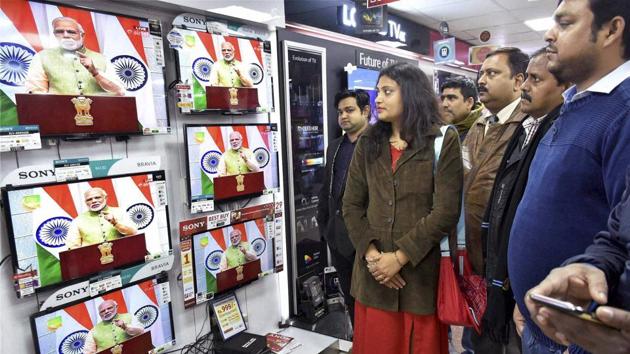 Hindustan Times, New Delhi |
HT Correspondent
Prime Minister Narendra Modi announced a slew of schemes on Saturday evening to herald a prosperous 2017 for the urban and rural poor, farmers, small businessmen, senior citizens and pregnant women.
Modi started on a sombre note. For the first 23 minutes, he mainly thanked his countrymen for braving the cash crunch, iterated why demonetisation was a necessary weapon in his fight against black money and corruption and warned of more action against the dishonest.
"The law will take its course with full force. The government will help the honest, protect them, and see that their difficulties are eased," he said.
Read: Full transcript of PM Narendra Modi's New Year's eve speech
In his address made to the nation on the very day the demonetisation exercise ended, the Prime Minister did not say much about curbs on withdrawals. He only said everyone in the government has been told that banking operations must return to normal as soon as possible.
Then he switched to announcement mode, rattling out enough measures to make his speech sound like a mini-budget.
The first in his list for 2017 were two housing schemes under the Prime Minister Awas Yojana (PMAY). For the urban poor, home loans up to Rs 9 lakh will get 4% interest exemption, and loans up to Rs 12 lakh will get 3%. In villages, home loans up to Rs 2 lakh will get 3% interest exemption. This would apply not only to loans for building new houses but also those taken for renovating or expanding an existing one.
In all, Modi said 33% more homes will be built in rural areas under the PMAY.
There was more for the rural poor, who got the lion's share of the announcements. The govt will pay interest for 60 days on loans taken by farmers for Rabi farming from district cooperative banks and societies. It will give the National Bank for Agricultural and Rural Development (Nabard) Rs 20,000 crore, which the bank will use for giving loans to cooperatives at low interest rates. Some 30 million kisan credit cards will be converted to RuPay cards, so their holders can make non-cash transactions at a large number of places.
Read: Focus on poor, small businesses: 5 highlights from PM Modi's New Year's eve speech
There was also a fair bit for small businessmen, generally referred to as MSMEs (micro, small and medium enterprises). In a scheme under which the government guarantees loans raised by them, the limit has been doubled to Rs 2 crore. This will also cover loans from NBFCs. Banks have been told to raise the cash credit limit to small businesses from 20% to 25%.
Banks, the Prime Minister noted, tend to decrease interest payable on deposits when they are flush with funds – as they are now. The government will not allow them to pay senior citizens anything less than 8% on deposits up to Rs 7.5 lakh made for 10 years.
To reduce deaths during child birth, the government will deposit Rs 6,000 into the accounts of pregnant women. It can be used for registration and vaccination, among other things.
Modi also packed a punch for his political rivals. "The time has come for all political parties and leaders to respect the feelings of honest citizens and understand their anger. I urge them to move away from their holier-than-thou approach, and take actual steps towards reforming the system and getting rid of black money and corruption," he said.
Read: BJP compliments, rivals criticise PM Modi's New Year's eve address
Personalise your news feed. Follow trending topics