Morbi bridge collapse: Oreva MD Jaysukh Patel surrenders before court
Jan 31, 2023 08:48 PM IST
Jaysukh Patel was the only one among the 10 accused who was yet to be arrested. Police officers earlier said that they reached out to Patel's offices and residences in Ahmedabad, Morbi and Bhuj but could not trace him
AHMEDABAD: Oreva Group managing director Jaysukh Patel on Tuesday surrendered before a Gujarat court in connection with the collapse of a suspension bridge in Morbi that killed 135 people in October last year.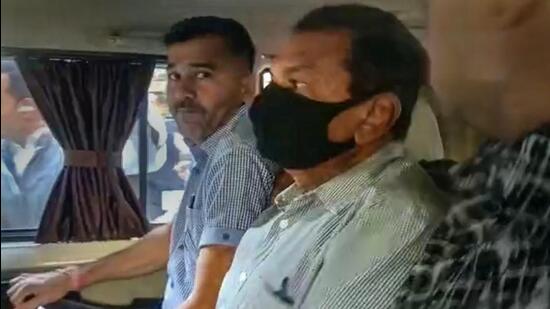 "Jaysukh Patel has surrendered before a court in Morbi around 3pm. He has been arrested by the Morbi police," a senior Gujarat police officer said. Patel was managing director of Oreva Group, the firm that held the contract to maintain, repair and renovate the bridge and was among the 10 accused named in the charge sheet filed by the police in court on January 27.
Patel was the only one of the 10 accused who was yet to be arrested. Police officers earlier said that they reached out to Patel's offices and residences in Ahmedabad, Morbi and Bhuj but could not trace him.
The investigators eventually approached the court which issued a warrant for Jaysukh Patel's arrest on January 13. Patel applied for anticipatory bail on January 20 but the hearing was postponed to February 1 due to the absence of the public prosecutor.
The bridge was crammed with people when it collapsed around 6.40pm on October 30. A government-appointed special investigation team (SIT) said that there were several lapses including rusty cables, broken anchor pins, and loose bolts that were not addressed during the renovation process. It added that the Oreva Group did not hire an expert agency to assess the load-bearing capacity of the bridge before throwing it open to the public.
A total of 10 accused, including Patel, were charged under sections 304 (culpable homicide not amounting to murder), 308 (attempt to commit culpable homicide), 336 (act which endangers human life), 337 (causing hurt to any person by doing any rash or negligent act), and 338 (causing grievous hurt by doing rash or negligent act) of Indian Penal Code.
The nine people arrested in the case include two managers of Oreva Group, two ticket booking clerks, two sub-contractors who repaired the bridge and three security guards deployed on the cable-stayed structure to guide and control the crowd.
The state government has suspended Sandipsinh Zala, the then chief officer of Morbi municipality, who signed the agreement with the firm, one of the leading manufacturers of lighting products.
The state government has also issued a show-cause notice to the Morbi municipality asking why it should not be dissolved for failing to discharge its duties that led to the bridge tragedy.
The 52-member municipality passed a resolution on January 23 and urged the Gujarat government to return documents seized by the special team so they can respond to the show-cause notice.