Muslim man arrested in Jharkhand for allegedly making anti-Modi remarks in video
In the video clip Sameer Ansari is seen allegedly heard backing Pakistan cricket team and also voicing his desire to see India humiliated.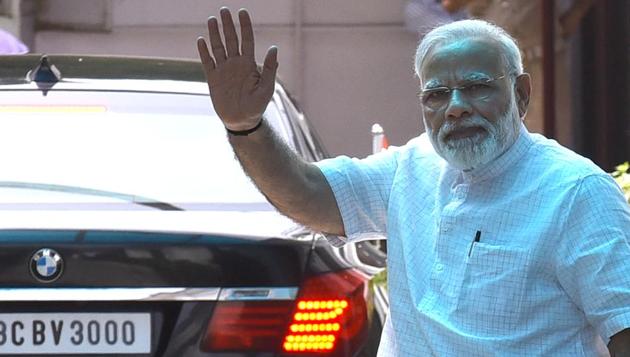 Updated on Jun 23, 2017 08:05 PM IST
Police arrested a 20-year-old Muslim man on Thursday night in Jharkhand for a viral video clip where he is allegedly heard making derogatory remarks against Prime Minister Narendra Modi and India.
The clip was shared widely in the state's Sahibganj region before India's shock loss to Pakistan in the final of the ICC Champions Trophy last Sunday. In the video clip -- HT has a copy of it -- Sameer Ansari is allegedly heard backing Pakistan but also voicing his desire to see India humiliated.
"The video was circulated in many WhatsApp groups. His statements were provocative and against the country, so, we had to arrest him, "said Sahibganj superintendent of police P Murugan.
Local residents said Ansari was a student but police refused to confirm.
Police said the video appeared to have been shot by another person who was heard asking Ansari to speak to the camera in the clip. The second man was arrested and identified as Mohammad Adil Kamran, who is said to be a friend of Ansari, sources said.
This comes days after 15 Muslim men were charged with sedition for allegedly celebrating Pakistan's 180-run victory in BJP-ruled Madhya Pradesh. The charges were dropped after nationwide outrage.
In Rajasthan, five people were slapped with sedition the same alleged offence. They were among at least three dozen people, including three minors, booked in three different states. In Kerala's northern district of Kasaragod, 23 people were booked for allegedly shouting slogans and celebrating Pakistan's victory.
Earlier this month, two Muslim men were arrested in Jharkhand's Hazaribagh for sharing communally-sensitive content on WhatsApp groups. All the districts have issued strict guidelines prohibiting circulation of any sensitive content on social media, including WhatsApp.
In a notification earlier this month, the Ranchi administration said that people found guilty of circulating sensitive content on social media would face criminal charges and be arrested.
Close Story