Muslim women don't want change in laws on triple talaq: Scholar
"Muslim women would continue following the Shariah law as it is better in their interest," a noted female Islamic scholar said.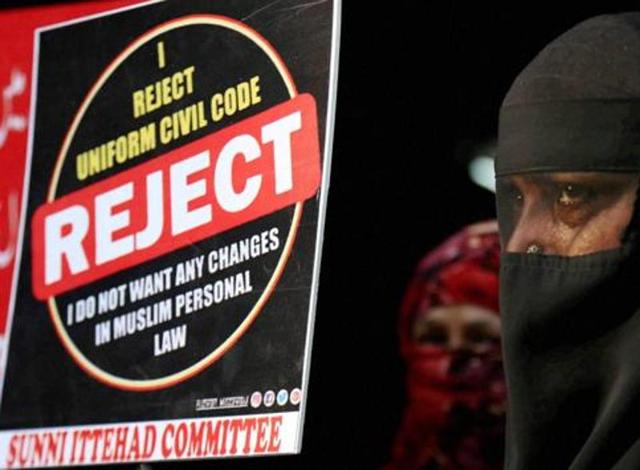 Updated on Nov 02, 2016 12:20 PM IST
A noted female Islamic scholar has said any attempt by the Narendra Modi government to do away with the practice of triple talaq would be opposed in the strongest possible terms by women themselves.
Fariha Binte Hakeemullah, who is associated with Allahabad-based Islamic Education and Research Organization, said Muslim women in the country are happy with the existing Islamic laws on triple talaq through which Muslim men divorce their wives instantly by uttering the word thrice in one go.
"Muslim women would continue following the Shariah law as it is better in their interest," Hakeemullah said at a seminar on triple talaq in Gorakhpur's Unchwa locality on Monday.
"When the Muslim women themselves do not want any changes in triple talaq and Shariah, why is the government interfering unnecessarily?" she asked, adding it was the constitutional right of Muslims to follow Shariah.
In India, there is a separate set of laws governing marriage, divorce and inheritance that allows the Muslim community to regulate these matters through their own civil code.
The Modi government has said it wants to replace the triple talaq and other Islamic personal laws with a new uniform civil code applicable to all religious groups. That proposal has met stiff opposition from Muslim groups, who argue that it would discriminate against them.
Read more| Triple talaq: The AIMPLB's statement goes against the spirit of Islam
Last week, Modi criticised the controversial practice of triple talaq, speaking for the first time on mounting calls to reform the Islamic code that he said was destroying Muslim women's lives.
Women's rights were a development issue and that people must not politicise the debate to ban the triple talaq, the Prime Minister said at a rally in Uttar Pradesh, where Muslims form more than 20% of the population - above the national average.
About two dozen Muslim women's groups have in recent years mounted legal challenges to triple talaq, which they say discriminates against them and violates their human rights.
Bharatiya Muslim Mahila Andolan (BMMA), which has filed a petition in the Supreme Court, demanding reforms in the Muslim personal law and the abolition of triple talaq and halala, says triple talaq is unilateral, arbitrary and unconstitutional because it violates the right to equality.
The All India Muslim Personal Law Board (AIMPLB), a non-governmental body which oversees the application of Muslim personal law, opposes any ban on triple talaq and polygamy.
Justifying the triple talaq, Hakeemullah said that it was the simplest way in which a Muslim couple could separate if they wanted to do so without any complications.
"Talaq is the last option available to Muslim couples who want to separate. In Islam, couples who want to part ways have been asked to resolve their differences through discussions among themselves. Family elders may also intervene. The couple may finally opt for talaq if the issues are not sorted out," she said.
Read more| AIMPLB convention to formulate action on Uniform Civil Code and triple talaq
Hakeemullah said Islam showed the way to peace, harmony and brotherhood but conspiracies were hatched to portray it in a poor light.
"Islam is being associated with terrorism nowadays to defame the 1,400-year-old religion which advocates universal brotherhood and mutual love," she added.
According to Hakeemullah, a large number of Muslim women, who attended the seminar, vowed to oppose any reform in the controversial Islamic law under which a man can divorce his wife by uttering the word talaq three times in one go.
Triple talaq has been banned in more than 20 Muslim-majority countries, including Pakistan and Bangladesh while polygamy was prohibited in Turkey and Turkmenistan among other countries.
Close Story