Haryana rape: Class 12 student main accused in girl's rape, torture and murder
Updated on Jan 15, 2018 12:22 PM IST
Police said the main accused in the rape, murder of a girl in Jind is a Class 12 student, who lives in the victim's neighbourhood. His name has not been disclosed by the police, as he is suspected to be a minor.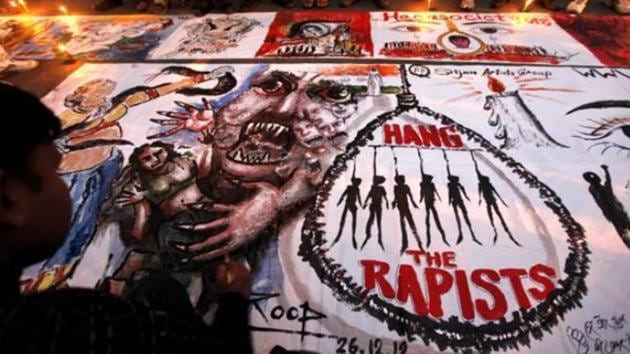 A Class 12 student is the prime suspect in the rape and murder of a 15-year-old girl, whose semi-naked, mutilated body was found near Budhakheda village of Haryana's Jind district last week, and he is on the run, police said.
Police on Sunday detained six people from her native village of Jhansa in the northern state's Kurukshetra district in connection with the case.
"The police have detained some people suspecting their involvement but the main accused is still at large. We are conducting raids to arrest him," Kurukshetra superintendent of police Abhishek Garg said.
The name of the Class 12 student, who lives in the girl's neighbourhood, has not been disclosed by the police, as he is suspected to be a minor. The police are trying to verify his age.
Mutilated, tortured
The girl's body with her private parts mutilated and liver ruptured was found on Friday evening.
It was sent to Post Graduate Institute of Medical Sciences (PGIMS), Rohtak, for postmortem.
Dr SK Dhattarwal, head of the forensics department at PGIMS, said the girl had injuries on her face and inside the mouth, suggesting that she was kidnapped by more than one person, who prevented her from making noise.
"The autopsy suggests this was an act of frustration. All the damage to her private parts seems to have been done after she was drowned and murdered. This was the work of more than one person who failed to sexually assault the victim while she was alive," Dr Dhattarwal said.
She was cremated on Sunday.
"My daughter was killed brutally, I want justice for her. I cannot fight a long battle for justice but I appeal to the police to send her criminals behind the bars," the girl's father said while speaking to reporters.
Family blames police
The girl had gone missing on January 9 when she had left home for tuition. A missing person's complaint was filed by her family the same day.
"Why did the police take three days to find our daughter? Had the police acted on our complaint quickly, our daughter may have been alive," the father said.
The incident comes barely a month after the state was shaken by the brutal rape and murder of a six-year-old girl in Hisar, whose private parts were mutilated by inserting a wooden stick.
In a similar case, a semi-naked body of an 11-year-old Dalit girl was recovered from a deserted place on the outskirts of Urlana Kalan village of Panipat district on Sunday morning.
Police have arrested two men, who are residents of the same village, in connection with the case.
Close Story
Personalise your news feed. Follow trending topics