Mystery over Nipah virus outbreak deepens, samples taken from fruit bats negative
Jun 03, 2018 12:01 AM IST
At least 13 samples taken from fruit bats have all tested negative like the earlier tests on samples from insectivorous bats, an official said.
The mystery over the prime source of the deadly Nipah virus that claimed 17 lives in north Kerala deepened after the blood and serum samples taken from fruit bats were also found negative.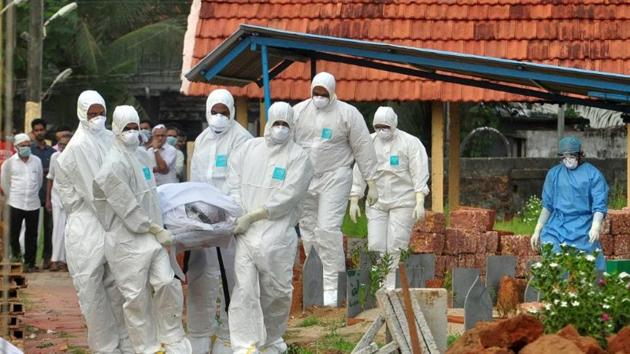 At least 13 samples had been sent to the National Institute of High Security Animal Diseases in Bhopal and all tested negative like the earlier tests on samples from insectivorous bats, said a senior health official.
Initially, experts suspected bats to be the primary source after they found some in the well of Moosa whose family was the first to succumb to the virus.
"Our prime concern is to contain a possible secondary infection. There is some confusion over the primary source and we will conduct an elaborate study with the help of the World Health Organisation (WHO) once the dust is settled," said state health secretary Rajeev Sadanandan.
Another senior official of the animal husbandry department said it was too early to give a clean chit to fruit bats.
"These samples were taken randomly. There are chances that virus carriers were not there. We need more scientific studies to the reach the primary source," he said.
According to the WHO advisory, fruit bats and animals like pigs are the main carriers of the virus.
Dr G Arun Kumar, head of the department of virus research in Manipal, who is camping in Kozhikkode said the strain of virus detected in Kerala was similar to a virus strain in Bangladesh.
"Our primary investigation shows it is almost similar to Bangladeshi virus that is more lethal than the Malaysian strain," he said adding the infection was localised effectively.
Meanwhile the state government has called another all-party meet in the state capital on Monday.
Last week a meeting was called in Kozhikkode, the worst-hit district.
Police have arrested three persons from Malappuram on Saturday after they allegedly put up posts on social media intended to create panic.
Similarly, at least 30 persons fell sick in Mukkam in Kozhikkode district after taking homeo medicine distributed under the pretext of immunity boosters. The district medical officer has announced a probe into this.