Nadda launches BJP's health volunteers programme: All you need to know
JP Nadda said that through this programme, the BJP aims to reach two lakh villages in the country by imparting training to four lakh volunteers.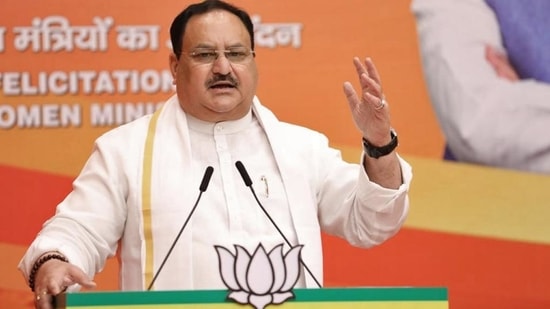 Updated on Jul 28, 2021 01:22 PM IST
Bharatiya Janata Party (BJP) chief Jagat Prakash Nadda on Wednesday launched Rashtriya Swasthya Swayamsevak Abhiyan (a health volunteers programme) from the party headquarters in Delhi.
Nadda said that through this programme, the BJP aims to reach two lakh villages in the country by imparting training to four lakh volunteers. "I am happy that more than 48,000 volunteers have registered with the programme in a single day (on Wednesday)," the BJP chief said.
He added that in all the countries across the world, it was the government which fought the coroanvirus disease (Covid-19), but in India, under the leadership of PM Modi, the people of the country fought against the disease along with the government.
The Swasthya Swayamsevak Abhiyan is an initiative taken by the BJP to prepare health volunteers ahead of the likely third wave of Covid-19.
Here is everything you need to know about the programme:
According to BJP, the purpose for this campaign is to organise a special training programme for its workers across the country to prepare them to help people and the administration in case of an outbreak of a third wave of the Covid-19 pandemic.
The trained workers will visit various villages to get all the necessary information "to boost the morale of the society", according to BJP.
These volunteers will also impart Covid-19 appropriate behaviour training, apart from ensuring medical aid for serious patients.
The volunteers will form groups of four and visit the villages across the country. "As part of the launch, today we would be imparting a day's training to 130 people," said Tarun Chugh, national general secretary of the BJP and in-charge of health volunteers.
The Rashtriya Swayamsevak Sangh (RSS) will soon organise nationwide workers' training as part of the programme. As of now, 27,166 branches of the Sangh have started taking place in the field, according to news agency ANI.
The training will start from August 1 and be completed within the month. From September, many more people and organisations will be connected in this campaign through Jan Jagran (public awareness) in every village and township.
The training module has been divided into five parts: How to keep surroundings clean, what should be done to keep the body fit to fight Covid, facility of quarantine and how to keep family quarantined, arranging doctors consultation, and keeping nearest hospitals and ambulances data.
8.The RSS' Akhil Bharatiya Prachar Pramukh Sunil Ambekar said in a statement that the programme will have a special module to enable workers to provide help to mothers and children with all necessary measures and precautions required to protect them from the Covid-19 infection.
Close Story