Nandini rape and murder: Complicated caste, religion politics plays out in Tamil Nadu
Updated on Apr 01, 2017 10:56 AM IST
Caste, religion and politics clash over gang rape and murder of pregnant Dalit minor by her boyfriend and his three accomplices.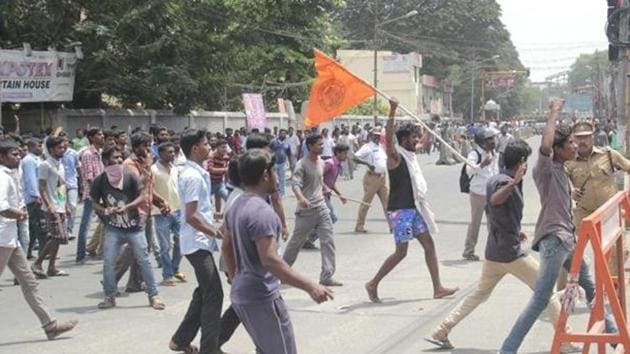 Grist Media |
Divya Karthikeyan
In Keezhamaligai village in Ariyalur district in Tamil Nadu, men carefully paint mangoes on the walls of newly built homes, the fruit's yellow mirroring the searing sun. Five mangoes on every house exert the presence of the locally dominant political power, distinct from the usual 'rising sun' and 'two leaves', the stark symbols of the state's two main political parties, Dravida Munnetra Kazhagam (DMK) and the ruling All India Anna Dravida Munnetra Kazhagam (AIADMK).
The mango is the symbol of the Pattali Makkal Katchi (PMK), led by S Ramadoss and his son, former Union health minister Anbumani Ramadoss, a party that has its vote base predominantly in northern Tamil Nadu's Vanniyar (Most Backward Caste or MBC) population. Vanniyars, traditionally agricultural labourers, but now equipped with considerable political clout, are the dominant caste in these parts, outnumbering the Dalit Paraiyars and often clashing with them.
Moving away from the fierce sun, daily wage labourers—predominantly women—converge under a tree, attentive to roll call, for a condolence meeting for Nandini. The teenaged girl, gang-raped and murdered, is one of their own. At the mention of her name, they compose themselves and voice their weariness at the rising instances of caste violence in the village. The 17-year-old had died horribly, and her decomposed body was found more than a fortnight after her disappearance was reported. No one had paid any attention to a missing pregnant young Dalit in the uproar over the jallikattu ban. The few celebrities and politicians who had called for justice in this case were Kamal Haasan, music director GV Prakash and MK Stalin, who all took to Twitter.
When Nandini did not come home on 29 December, 2016, her frantic mother had gone to the police saying her daughter had been kidnapped, but the police filed a missing person complaint instead. The police did receive a call from one Thamizharasan from Vellore saying Nandini had been found. But investigation later revealed it was a diversionary tactic by the murder accused. The police then got a lead when M Devi, Nandini's close friend, told them about the missing girl's affair with one Manikandan Ramasamy, and that she was pregnant. Manikandan, a mason with a criminal record, who was also the Union Secretary of the local unit of the religious organisation Hindu Munnani (Hindu Front), was called in for an inquiry, but he denied any complicity, and so the local sub-inspector, G Rajendran, let him go.
Matters took a horrific turn when a body was recovered from a well on 14 January. Nandini's family was called to identify it. It was indeed her, raped and stripped of all clothes and jewellery. Police again summoned Manikandan.
It emerged that the pregnant Nandini had asked Manikandan to marry her, while he had pressured her to go in for an abortion. Finally, Nandini was gangraped and murdered, allegedly at the hands of her boyfriend and his three accomplices.
Ariyalur district collector Saravanavel Raja said the other three, Thirumurugan, Mannivanan and Vetriselvan—all Manikandan's cousins—have been booked under the Goondas Act (Prevention of Dangerous Activities of Bootleggers, Drug Offenders, Gamblers, Goondas, Immoral Traffic Offenders and Slum-Grabbers Act). Under this Act, the jailed men cannot get bail for a year. "The two other accused have been lodged under SC and ST (Prevention Of Atrocities) Act, 1989, POCSO Act (Protection of Children From Sexual Offences Act), rape and murder." They are now awaiting trial.
Just a sex crime?
This case would have been just another tragic statistic of a boyfriend choosing coldblooded murder but for the complex political turn it has taken. Even Dalit groups are fragmented over the issue though Nandini belonged to the Paraiyar caste.
Nandini had studied up to class 8, supporting her family with a job in construction, mainly concrete laying, bringing home Rs 50-100 a day. "She saw a dashing hero in her supervisor Manikandan, who dropped her back from work on his bike during late nights," says K Muthamizhan, Manikandan's neighbour. Borrowing a phone from her economically and caste-privileged friends, she spent long hours conversing with him, progressing to a year-long relationship. She often waited near the toilet outhouse of the Dalits to meet him.
Manikandan, who has studied up to class 10, supervised concrete laying work under the guidance of S Rajshekar, a local Hindu Munnani leader, a fringe pro-Hindu outfit founded in 1980. Muthamizhan, also a Hindu Munnani member, paints his neighbour as a hell raiser and short-tempered. He is also a history sheeter with several cases against him, including vandalising two churches and being a public nuisance.
A crime of caste?
In Nandini's recently constructed house, a ray of light falls on her framed picture placed on the front yard. Plastered across the wall is a logo of the Indira Awaas Yojana, under which the family received a grant to construct the house. The cement is fresh and porous, dotted with turmeric and saffron from the previous day's puja. Nandini's mother sits crouched from across her older daughter, and puts away her lunch, forlorn and caressing her dead child's picture. "I have just started eating," she mumbles. The surviving daughter, and her brother, who is away at work, are married.
"Nandini had a lot of aspirations. This clock you see, this dress I'm wearing, and that showpiece, she bought all of them. She always wanted to make sure we live well and not lesser than anyone else, no matter what their caste," the mother says.
"He [Manikandan] told her that there is nothing wrong in him [a Vanniyar] marrying a Paraiyar and that she would be happy with him. He led her on and then did this," the sister butts in.
Slouched on plastic chairs, black-shirted members of the Dravida Kazhagam (DK), the much-desiccated mother organisation of the DMK and the AIADMK, are reverently offered cups of fizzy orange drinks as they spit expletives about the Hindu Munnani. The Dravida Kazhagam, founded by EV Ramaswamy in the 1940s, was initially aimed at eradicating caste and forming a separate but united 'Dravida Nadu'. Now, its goals lack definition, but includes protecting 'Tamil culture' as they call it.
Back in Nandini's house, the dynamics then take a strange turn. Inside their house, the women made it clear that her death had its roots in caste. On seeing the DK men outside, they change. "It's definitely an issue of religion," the mother declares, conscious that both the DK men are Vanniyars.
This line of argument, which occurs over and over again in the Nandini murder case, is inexplicable if you don't know what is really being said. DK would now like to confront the institutional discrimination faced by Dalits and not have caste be one of the factors in the violence Nandini faced. At the same time, complaining about 'religion' is a stand-in for newer groups elbowing in, like the Hindu Munnani, for instance. The irony is of course that neither DK nor Hindu Munnani are working towards ending discrimination and violence Dalits face. So they have more in common than they'd like to think.
Tamil Nadu's history of caste violence
Caste dynamics permeate every aspect of life here. The Hindu Munnani set up its unit here in mid-2015. The Pattali Makkal Katchi (PMK), a caste-based party pandering to Vanniyars, is the strongest party in Keezhamaligai with a membership of at least 1,000. The AIADMK follows with 700, and includes both Vanniyars and Dalits. The DMK scores lowest, with little support from both castes, and comprises some Chettiars and Nadars, numerically small castes in the area.
The dominant Vanniyar caste outnumbers the Dalits: 3,000 homes to a meagre 250. Relations between these two groups have always been simmering. And now, the Dalits have another battle: They find themselves pincered between the Vanniyars' and the Hindu Munnani's fight for dominance. The existing Vanniyar order, with its traditional ties to the PMK and other major parties, does not want the Hindu Munnani to emerge as a new political force. This is a genuine possibility as the youth are seduced by the Munnani's call to violence.
Organisations like the Munnani and the DK, besides the mainstream political parties, are attempting to make inroads here with opposing ideologies. The DK, known for its atheist, rationalist ideology, has a small following of about 100 in the village and began a unit there in 2012. Soon, it began to assert itself, taking on the Rashtriya Swayamsevak Sangh (RSS) musclemen. Then the Hindu Munnani set up shop. Throughout all this, tensions between the Vanniyars and Dalits continued to simmer.
In November 2016, three Vanniyar students clashed with two Dalit students over a Dalit woman, leading to violence when soda bottles were broken over each other. Such aggressive attacks date back to the 1980s when then Chief Minister MG Ramachandran allocated 10 acres of patta land to the Dalits, and the Vanniyars promptly staked claim to it. Even now, Dalits are warned not to stray into the land, especially at night.
Crime of religion?
In Sirugambur in Tiruchi district, a lopsided lock greets those who care to stop by Manikandan's home. Word is that his family has fled, fearing violence from the community and police harassment.
Waving his hand to silence any contrarian views of fellow villagers, J Vetriselvan, a Dravida Kazhagam member, also a Vanniyar, half-heartedly recites the refrain of the past few weeks. "Hindu Munnani is a terrorist organisation. This is slowly permeating our society and these fringe elements must be stopped. A caste angle is irrelevant; this is a religious problem. Both the Vanniyars and Dalits are with us, then how can it be an issue of caste?" he asks, glossing over the fact that both victim and accused are Hindus.
In Sriperumbudur, just 40 km outside Chennai, Hindu Munnani party's head Rajshekar's office reeks of lubricants. Running a Daikin air-conditioner service centre, it is evident that he has distanced himself from the happenings in Keezhamaligai. "I am awaiting the report on the case in a bid to clear my conscience and that of the party's," he says. "Vanniyars comprise the biggest number [in the party] and Dalits are next. All are youths under 30 years. I know Manikandan but we knew he had gone rogue a year ago; so we sidelined him. Our objective is to unite Hindus, not see caste." And he quickly resorts to some victim blaming. "We hear that the girl had aborted many children (sic) before and had relationships with many men."
Uneasy undercurrents
K Ravichandran, Superintendent of Police for Jayankondam in Ariyalur, sits pensively at his desk while on the lookout for any tip-offs of potential violence brewing in the village. "This is definitely a case of caste violence. We've deployed 24-hour police protection in case something breaks out. The Hindu Munnani is a non-entity in this. What we fear is the Vanniyars taking control and lashing out at the Dalits. Things are already at a delicate stage."
His apprehensions are not entirely unfounded. In 1997, when Thol Thirumavalavan, the Viduthalai Chiruthaigal Katchi (VCK, a Dalit party) leader, visited Keezhamaligai upon launching his party, Murugesan, a local Vanniyar leader, created problems. Violence broke out, and since then, caste politics has always been simmering, ready to boil over at the slightest trigger. From temple worship issues every year —when Vanniyars are allowed to pray during nine days of Sivaratri and Dalits only on the 10th day—to violence over land, the police have always had their hands full here.
In Nandini's case, police nailed Manikandan with phone records traced backed to the teen's neighbour's number. Moreover, Devi's statement about their affair and the pregnancy helped. Sub-inspector Manivannan, entrusted with investigating Manikandan after he was let off the first time, has a few things on his mind. It appears there's a lot unsaid within the police themselves, and the crackling lines of communication have worsened the case. SI Manivannan feels he was given the "spoilt leftovers". "I received a lot of blowback for the work my senior had done. I had arrested Manikandan promptly after the body was found. I don't know why Rajendran let him off. To date, that is the biggest mistake I consider in my professional life."
Rajendran was the sub-inspector who let Manikandan go after he was initially questioned. But his superior, Deputy Superintendent of Police Inikudevan, stands up for him, saying, "There wasn't enough evidence to arrest him so I let him off: As simple as that."
Failed by Dalit parties
Following Nandini's murder, the Intellectual Collective for Dalit Actions (ICDA) released a fact-finding report that stressed on the importance of caste violence. "[The] rape and murder fitted with the template of honour killings happening in the region for many years. Previous instances have always been directed to the PMK," says Stalin Rajangam, a scholar of Dalit culture, who led the team.
C Lakshmanan from the Madras Institute of Development Studies, also part of the team, says it is as much a DMK, AIADMK and PMK problem, as it is a VCK problem. "PMK, which has time and time again alleged that this is a 'drama kaadhal' [fake love between people of different castes], is silent on this issue. Why?" he asks.
D Ravikumar of the VCK, which held a road roko in protest, says this is first a gender issue, then a caste issue, and finally a communal issue. "She is a woman first and then a Dalit. While it is clear that it is a caste issue, it is foolish to blame the Hindu Munnani," he says.
Experts explain why VCK did not play an active role in the protests demanding justice for Nandini. They say it can be traced to the non-Dalit solidarity as opposed to the fragmentation present in the Dalit community. "There has been no continuity maintained since their electoral debut because they have a tokenistic protest [ritual]. They never follow the legal course of the rapes or murders they protest against," says Rajangam.
But Dalit leaders defend their stand. "We have to look at both the communal angle and the caste angle; they are interrelated," asserts Thirumavalavan. The former MP says, "VCK believes it is a women's issue first, and then a Dalit issue. Male domination is the issue. Caste is secondary. DK is giving priority to communalism. Dalit organisations only see caste, while the PMK is silent. That silence is support."
In the midst of all this, there is not much coming from both the AIADMK and the DMK, though DMK's Working President MK Stalin issued a statement about violence against women.
For now, news reports point the finger of blame squarely at the Hindu Munnani. The community vote bases of the DK, DMK and PMK could be banking on the fire aimed at the fringe outfit, to not only render irrelevant the vicious caste undercurrent but also to negate the emergence of any other political foe. Local residents, especially Dalits, could be doing the same to avoid caste clashes. The quick change in narrative by Nandini's family as to the nature of their daughter's murder points to uneasiness, perhaps even fear of repercussions. Police themselves fear caste clashes breaking out.
At the end of it all, Nandini is reduced to a mere case number. Perhaps everyone and everything killed the young girl.
(Published in arrangement with GRIST Media)
Personalise your news feed. Follow trending topics