BJP is losing allies because of Narendra Modi's ego, says Chandrababu Naidu
Telugu Desam Party president and Andhra Pradesh chief minister Chandrababu Naidu says his party will contest alone in the state in the general elections next year and he will find regional parties that can be part of a federal front against the BJP.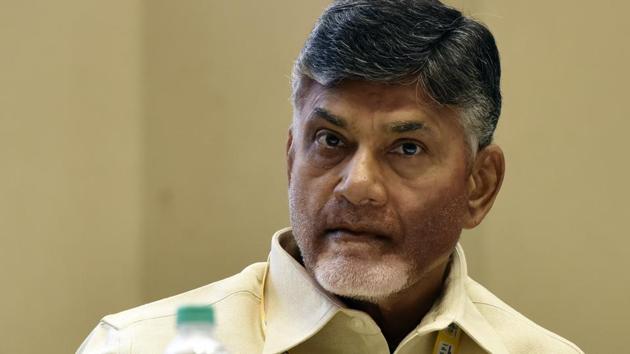 Updated on Jun 10, 2018 08:10 AM IST
With less than a year to go for the next general election, Telugu Desam Party (TDP) president and Andhra Pradesh chief minister N Chandrababu Naidu faces a tough task — he must not only retain power for a second term, but also bring together various regional parties to stand up against the Bharatiya Janata Party (BJP)-led National Democratic Alliance (NDA) at the Centre.
Naidu, who plans to contest alone in Andhra Pradesh after severing ties with the BJP, said he is confident of realising both objectives. According to Naidu, the BJP will pay a heavy price for Prime Minister Narendra Modi's decision to distance regional allies. Some excerpts:
You were the chief minister of combined Andhra Pradesh for nine consecutive years and now you have completed four years in divided Andhra Pradesh. Which term was more challenging?
Both the tenures were challenging. It was a different scenario in the first term (ruling undivided Andhra); there was an existing infrastructure, but there was no development. There were financial constraints. It was a period when economic reforms had just started across the country and information technology was gaining ground. I grabbed both opportunities and created an ecosystem of knowledge economy.
In the present tenure, we started from zero. We had a huge revenue deficit. We didn't even have a place to sit and run the administration. Fortunately, there is a tremendous human resource with dynamism. So we have focused on education. We took up two flagship projects — the new capital Amaravati and a major irrigation project, Polavaram, that would transform the economic scape of the state. On the welfare front, we have focused on several programmes making use of technology. There might be complaints on the implementation of schemes here and there, but there has been absolutely no criticism from the people.
How do you rate your performance in the last four years?
I am completely satisfied. In my 40 years of political life, this has been the most inspiring and satisfying period. I am able to deliver most of what people want, from welfare to development. We could attract several major industries like Kia Motors, Ashok Leyland and HCL to the state. We created an extensive rural road network across the state. There is complete rural electrification with LED bulbs.
You have said the Centre has not provided funds to complete Amaravati and Polavaram. Is this a failure on your part?
How does it reflect on my performance when the Centre does not cooperate with the state? I have been fighting with the Centre to secure financial assistance to these projects. People are aware of how much I have been struggling and how the Centre is creating troubles. They have realised that the BJP has cheated us and the Centre does not want Andhra Pradesh to grow. They have understood why these projects are getting delayed. Nevertheless, works on Amaravati have picked up pace. It is a massive project and is going to be a world class city. With regard to Polavaram, we have completed 54% of the work and we are confident of completing the project by 2019-end.
You were the second largest alliance partner of the NDA before you left it. Why do you think Modi ignored you?
It was nothing but an ego problem for Modi. Since the BJP had absolute majority on its own, he thought he would keep all his alliance partners under his control by making them weak. He prefers weak alliance partners who are corrupt so that they would listen to him. But I proved an independent and stronger leader and he realised that as long as I am here, the BJP has no scope. I have no such ego.
Though he is junior to me in politics — I became CM in 1995, whereas he got the opportunity in 2002 — I gave him a lot of respect in the interest of my state. But he did not acknowledge it and reciprocate the same. It is wrong. You might have power. But it is not permanent. Relations are permanent.
I joined NDA only for the sake of the people. When I am not able to get anything from the Centre, why should I continue in the NDA? Now the BJP is suffering because of his ego. It is running from pillar to post to keep the NDA flock together. The BJP is the biggest loser for ignoring the TDP, not vice versa.
Do you think your changed stand on Andhra Pradesh's special category status, after accepting a special financial package offered by the Centre, will have a negative impact on your electoral prospects?
No. On the contrary, it will have a positive impact. I accepted the special package offer only because they said as per the 14th Finance Commission's recommendations, no other state was being given special category status.
But last year, they extended it to 11 states with all the benefits. I went to New Delhi 29 times with representations to the Centre asking for implementation of the promises made in Andhra Pradesh Reorganisation Act.
I came out of the NDA only after exhausting all options. The people of the state have understood it.
Why did you wait for four years to take the decision of leaving the NDA?
I did not come out because it would have led to a lot of problems. The same people who are now blaming me for taking so long would have said I had taken a hasty decision and failed to secure funds due to the state.
The people had voted for us not to get into a confrontation with the Centre right from day one. We had been able to get at least some assistance from the Centre because we were in the NDA.
Secondly, had I been in confrontation mode right from the beginning, I would have spent most of my time fighting them. It would have been a waste of time and energy.
TDP always had one or the other alliance partner in every election. Now, it is forced to contest alone in 2019 elections. Will you be able to fight alone?
Having or not having an alliance doesn't make any difference, as long as you enjoy the confidence of the people. The TDP always won absolute majority on its own, irrespective of the alliance.
There has been a demand for an inquiry into the Air Asia deal case in which your name came up in a conversation.
What is there in the Air Asia case? In what way am I concerned if two people talk about me in their private conversation?
What is your assessment of the political scenario at the Centre in 2019?
The BJP has messed up the massive mandate given by the people in 2014. All the systems have collapsed. Steps like demonetisation and Goods and Services Tax (GST) have had an adverse impact on the people. Banks have become bankrupt due to mounting non-performing assets.
The credibility of Modi has fallen drastically. For sure, BJP will not come to power again. Regional parties are going to play a very crucial role in the formation of the next government at the Centre.
What are the chances of a third front coming to power at the Centre?
It is not so easy. Different regional parties are coming together because of their political compulsions. We have to see how things work out in the coming days. But they are going to create trouble for the BJP both at the Centre and the state.
What role would the TDP play in a federal front? Will you lead it if necessary?
The TDP will play a positive role and strive for the formation a stable government at the Centre. And no, I will not lead the third front. I got opportunities twice in the past and rejected the same.
Right now, I am focusing on my state and doing an experiment to make it the number one state in the country by 2029. I am happy here. But wherever I am, I will strive to bring a qualitative change in politics.
What is going to be the main agenda for the TDP in the next elections?
Our main poll issue will be providing sustainable governance that performs. There is a need for continuity. I had put my heart and soul to rebuild the state, which suffered a lot due to the bifurcation.
I have brought the development on track and if there is no continuity, all the systems will get derailed. If we have to take these efforts to the next level and fast track the development, the TDP has to come to power again. It is a historic necessity.
Close Story
Personalise your news feed. Follow trending topics