Nearly 50% drop in straw burning cases in Haryana in 2018, officials attribute dip to awareness
Officials say the number is likely to go up as physical verification of spots by officials was still on.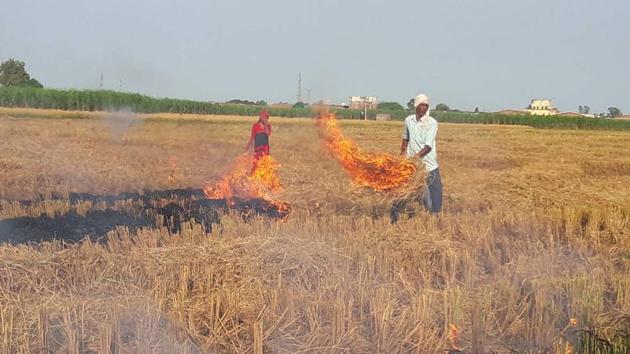 Updated on Oct 12, 2018 11:44 AM IST
Haryana has witnessed nearly 50% dip in stubble-burning cases in the last fortnight as compared to last year.
As per the data by Haryana Pollution Control Board (HPCB), against the last year's 343 cases of farm fires from September 25 to October 10, 180 verified incidents have been recorded from a total of the 459 Active Fire Locations (AFL) through satellite mapping done by Hisar-based Haryana Space Application Centre (Harsac).
However, officials have said that the number is likely to go up as physical verification of the spots was still on.
"The number of AFL has also come down to 459 against 752 of last year between September 25 to October 10. The number of actual cases reported by ground-level teams was 180, but the verification of these locations was still on. Last year, we already had 343 verified cases of stubble burning during this period," said S Narayanan, member secretary, Haryana pollution control board.
As per the figures, Kurukshetra district has taken the lead. More than half of verified incidents of paddy straw-burning cases (134) have been recorded from Kurukshetra, followed by 24 in Karnal, 16 in Palwal and five in Hisar.
Officials in agriculture department claimed that 71 incidents of stubble burning were detected in Karnal by their teams before September 25 as harvesting commenced in the area in the first week of September. They, however, added that the number of the incidents have dropped by nearly 50% than the last year in Karnal.
In a statement released on Thursday evening, the Haryana government claimed that the number of cases of stubble burning have come down this year. It added that ₹98 crore have been spent in the current year on provision of subsidy to farmers for purchase of agriculture implements and other benefits.
While the government and pollution board officials continue to pat themselves for the decline the figure, the number of stubble burning cases is likely to rise further as there is no check on the use of combine harvesters without Straw Management System, which leaves unmanaged crop waste behind, say experts.
Close Story