Tax dept rebuts Kumaraswamy on Karnataka raids, says no minister raided
Updated on Apr 25, 2020 07:44 PM IST
HD Kumaraswamy, who claimed to have information that the tax department was going to target leaders of the ruling alliance in the state, described the raids as "revenge politics" orchestrated from the national capital.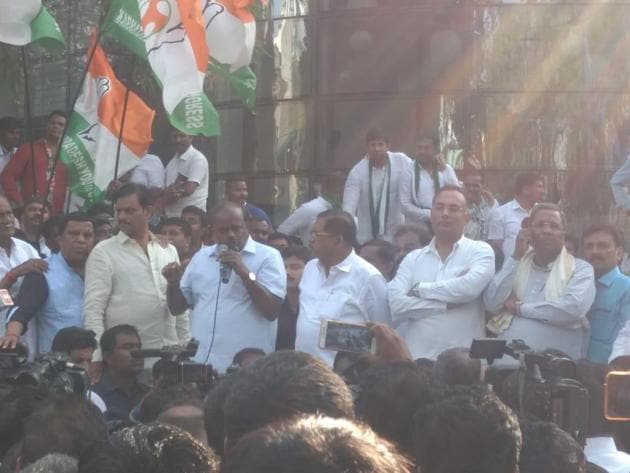 Karnataka chief minister HD Kumaraswamy and senior leaders of the Congress-Janata Dal (Secular) ruling collation on Thursday protested against what they called was "high-handedness" by the central government after a state minister claimed that the Income Tax department had conducted a raid on his house.
The I-T department, however, denied conducting raids on any political leader's residence. "No MP, MLA or minister has so far been covered in the searches," the department said in a statement issued on Thursday.
Kumaraswamy had on Wednesday said he had information about impending I-T raids. Hours later, minor irrigation minister CS Puttaraju claimed the raids had begun at his residence in Chinakurali village in Mandya district. "My house in Chinakurali village has been raided, mine is a joint family so it is a raid on me," he said.
Watch: IT dept raids Karnataka minister CS Puttaraju's residence in predawn swoop
This evoked strong reactions from the coalition government in the state, with Kumaraswamy, deputy chief minister G Parameshwara, former chief minister Siddaramaiah, irrigation minister DK Shivakumar and state Congress chief Dinesh Gundu Rao protesting outside the I-T office. "Since the BJP [Bharatiya Janata Party] came to power [at the Centre], many constitutional institutions have been misused. In the coming days it looks like they want to change the Constitution given by Dr Ambedkar. This is a dictatorship."
Also read: 'PM Modi's real surgical strike': Kumaraswamy on I-T raid at minister's home
Kumaraswamy said no person in the state was fooled into believing that this was not politically motivated. "During elections, the I-T department, which has to operate independently, has acted on the orders of the prime minister and the BJP president. We condemn this," he said.
The I-T department later denied that searches carried out by its teams had anything to do with politics. It also sought to counter the perception that it had raided any elected representative or minister from a particular party so far. "We also request that the activities of the income tax department should not be politicised, personalised or trivialised. In particular, statements which sound like an incitement to physical violence issued by persons holding very responsible posts are deeply deplorable," the department said.
BJP MLA and party spokesperson S Suresh Kumar also said that the raids had nothing to do with the party. "These are independent agencies and they must not be dragged into politics. It is not correct for someone in a constitutional post like the chief minister to target a government institution and we condemn this."
The issue was raised first by Kumaraswamy when he said on Wednesday that he had information that the I-T department had sought the support of the Central Reserve Police Force personnel, rather than the state police as was the practice. "Around 300-350 CRPF personnel have been brought here from different states to conduct raids. Are we indulging in vengeance politics or is the Bharatiya Janata Party?" he had asked.
He said he had information that 300 taxis had been readied to pick up the personnel. "I am not protecting anybody and I will not allow vengeance politics of any kind here. If they continue in this manner I will have to protest like West Bengal chief minister."