No role of state, society in individual's choice: SC order on Hadiya marriage
The detailed order is a severe criticism of the Kerala high court verdict that annulled the marriage of 26-year-old Kerala woman, Haidya, who converted to Islam to marry a Muslim man Shafin Jahan.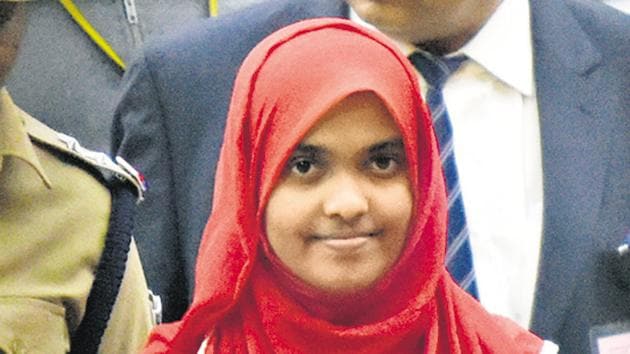 Updated on Apr 10, 2018 12:04 AM IST
An individual's right to marry a person of his or her choice is a matter of privacy, intrinsic to right to life and state and society have no role to play in determining the choice, the Supreme Court said in a detailed order on the controversial Hadiya case that was uploaded on Monday, almost a month after the apex court, though a brief order, set aside the Kerala high court's May 2017 ruling that annulled her marital union, holding it as sham.
The detailed order is a severe criticism of the HC order that annulled the marriage of 26-year-old Kerala woman, Haidya, who converted to Islam to marry a Muslim man Shafin Jahan. It is also not kind to Hadiya's father or the Kerala government.
A bench of Chief Justice Dipak Misra, Justice AM Khanwilkar and Justice DY Chandrachud held that the high court order violated the freedom of an adult woman. The Kerala government, too, drew flak for supporting the woman's father who, according to the judges, was "obstinate" and made all efforts to "garrote" his daughter's desire to live with a man of her choice. "The thought itself is a manifestation of the idea of patriarchal autocracy and possibly self- obsession with the feeling that a female is a chattel," the bench said in its order.
Hadiya, born Akhila, converted to Islam in January 2016 and married Shafin Jahan in December the same year. In May 2017, the Kerala high court annulled the marriage.
The HC not only invalidated Hadiya's marriage but also handed her custody to her parents. The order came on a habeas corpus petition filed by Hadiya's father who had moved the court asking for his daughter's custody, alleging that she was being taken to Syria and that her husband Jahan was a recruiter for a terror outfit, the Islamic State.
The high court's annulment order put the spotlight on "love jihad", a controversial term coined by fringe Hindu groups to describe inter-religious marriages as "a conspiracy by Muslim men to lure Hindu women".
CJI Misra, writing for himself and Justice Khanwilkar called the HC judgement a "sanctuary of errors" and said the court was "erroneously guided by some kind of social phenomenon that was frescoed before it."
Justice Chandrachud, who wrote a separate judgement, stressed that "the absolute right of an individual to choose a life partner is not in the least affected by matters of faith."
"Matters of dress and of food, of ideas and ideologies, of love and partnership are within the central aspects of identity. The law may regulate (subject to constitutional compliance) the conditions of a valid marriage, as it may regulate the situations in which a marital tie can be ended or annulled. These remedies are available to parties to a marriage for it is they who decide best on whether they should accept each other into a marital tie or continue in that relationship. Society has no role to play in determining our choice of partners," he added.
The SC also said that Hadiya was neither a child nor a vulnerable adult, as argued by her father. "She has absolute autonomy over her person. How Hadiya chooses to lead her life is entirely a matter of her choice. The HC's view of her lack of candour with the court has no bearing on the legality of her marriage or her right to decide for herself, whom she desires to live with or marry," Justice Chandrachud said.
"…parental love or concern cannot be allowed to fluster the right of choice of an adult in choosing a man to whom she gets married," CJI Misra said.
On Hadiya's conversion, SC said Constitution allows everyone to practice profess one's own religion and faith. "Choices of faith and belief as indeed choices in matters of marriage lie within an area where individual autonomy is supreme."
With regard to the NIA investigation that was ordered by SC last year, the bench said the agency can continue with its probe in respect of any matter of criminality, but this should not encroach upon the couple's marital status.
Close Story