No sympathy for lynching in the name of cow, law will take its course: Govt
Union minister Arun Jaitley, in response to the debate on lynching, said there was no rationalisation for killing people, and assured that the government is committed to seeing that justice is done.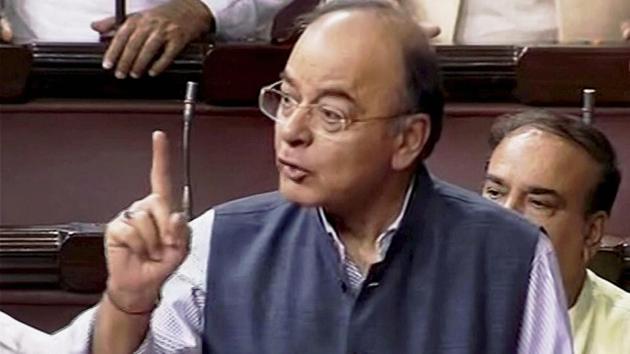 Updated on Jul 21, 2017 09:41 AM IST
Press Trust of India, New Delhi |
Press Trust of India
Facing attacks over lynching incidents, the government on Thursday asserted that killings in the name of cow "sentiments" was unacceptable and said the state governments should take stern action against those indulging in such violence.
Finance minister Arun Jaitley, who was replying to a debate on lynchings in the Rajya Sabha on behalf of ailing home minister Rajnath Singh, made it clear that the central government could not be blamed for violence by "some people" as it was the responsibility of the state governments to deal with such issues.
"The government's stand is clear. Nobody is allowed to do that (lynching in the name of cow protection). There is no rationalisation, no arguments of sentiments being hurt can be an explanation for this. And, the government is absolutely committed," he said.
He said "no amount of sympathy" will be shown for those who indulge in lynching and "law will certainly take its own course."
Jaitley, who is also the Leader of the House, was replying to the debate on 'situation arising out of the reported increase in the incidents of lynching and atrocities on minorities and dalits across the country', during which the opposition parties slammed the government and particularly targeted Prime Minister Narendra Modi over such incidents.
Most of the opposition parties blamed RSS-affiliates for the cow vigilantism, with the Congress accusing the prime minister of doing nothing to restrain them and "creating such an environment" by indulging in "double speak".
Rejecting the Opposition's allegations, Jaitley said the prime minister had spoken thrice against cow vigilantism.
"The government unequivocally condemns the killing of human beings in the name of protecting cows," he declared, adding, "nobody has the right to take law in his own hands".
At the same time, cow slaughter should not be "praised" or "eulogised", he said, referring to an incident in Kerala where a cow was slaughtered on a road by some youth Congress workers and 'beef festivals' were held.
"The incidents of people saying that they will display in Kerala as to how cow is cut and hold festival is equally damaging to the country as lynching in a train," he said.
"Violence can never be a partisan issue and can't be justified... One of your (Congress) CMs of the prohibited states has the audacity to say that given a choice he will eat beef," Jaitley added.
On the Opposition charge of inaction, Jaitley asserted that "legal action was taken systematically in each incident. People were arrested and they are in jail. They are all going to be chargesheeted against whom evidence is going to be found...This is clear and there is no 'ifs' and 'buts'."
In his speech, he emphasised that cow slaughter was banned in most of the states during the time of first Prime Minister Jawaharalal Nehru, who was "secular and not over- religious" unlike Indira Gandhi who was "more religious".
"This (ban on cow slaughter) was not proposed by Modi ji or Rajnath ji. This was said by Ambedkar during Nehru's time," Jaitley said, adding ban on cow slaughter was presribed in the Article 48 of the Constitution framed by the Constituent Assembly.
Later, it was made part of 7th Schedule of the Constitution as a result of which the matter fell under the purview of the state governments.
"At that time, neither the BJP was in place, nor was any state ruled by the BJP," he said, adding most of the states then were ruled by the Congress, which framed laws prohibiting cow slaughter.
"We have laws in place and if any such incident occurs where police is not acting and brought to our notice to this effect, the government will not think twice of requesting state governments and advising the state governments and even asking for reports as well as states are concerned," he said.
"There are no 'ifs' and 'buts'. Laws made in the states have provisions to preserve and protect cows. That right is with the state and its police. Nobody has the right to take law into their hands... If anybody does it, they should be arrested and prosecuted," he said.
He said "selective morality" caused problem and cited how there were a series of reports on attack on chruches during elections in Delhi and not even one case was found politically motivated.
Jaitley said there was no difference in opinion between the government and the opposition as killing of human beings in the name of cow protection has to be unequivocally condemned.
Contending that the definition of secularism has been "distorted" in 70 years, he said the issue pertains to faith and needs introspection. He urged the opposition to rise above politics.
He took a jibe at the BSP saying if the law banning cow slaughter had been framed now, the party would have been the first to object that Baba Saheb Ambedkar was communal.
BSP leader Satish Misra said his party welcomes banning of cow slaughter but the question was killing of people in the name of cow.
Leader of the Opposition Ghulam Nabi Azad said Kashmir, despite having Muslim majority, has a law prohibiting cow slaughter which has not been changed. He, however, decried killing of some people in the state on suspicion of ferrying beef.
He said the Opposition's objection was to lynching and it wanted to know whether people of other religions had no right to do businesses like dairy as they were being targeted in the name of merely keeping the cows.
Jaitley said people have to be tolerant to each other as the country belongs to all. "We have vibrant secularism."
At the same time, he said there were more instances of intolerance and violence in liberal societies.
During his speech, Jaitley attacked the Left Front, asking, "Why is it that incidents of violence increase in Kerala when the Left comes to power there? .. Why were there no incidents (of violence) when Oomen Chandi (of Congress) was there (till 2014)."
Addressing the opposition benches, he said, "If it want to know why it did not happen before 2014, you have chosen an eminent and fair man for Vice President...when you will go through every report that Gopal Krishna Gandhi has sent, you will be enlightened."
At this, Azad quipped, "please do not divide the opposition."
Senior Congress leader Anand Sharma then remarked in a lighter vein that since Jaitley has "acknowledged" that the opposition candidtate for Vice President was "emeinent and fair", the ruling party should withdraw its candidate.
Jaitly also stressed the need for uplifting Dalits and weaker sections, saying the way they were treated in history needs to be reversed.
He said the issue boils down to effective action by the police in violence against the Dalits.
In case of police not acting in a state in crimes against Dalits, the Centre "will not hesitate" in telling that particular state to act.
The Centre can also seek report from the state, he said, adding if needed, the Union Home Ministry may monitor probe in any case.
A demand by some opposition members for a separate law for lynching was also set aside by Jaitley, saying the present law was sufficient to ensure justice.
Maintaining that the BJP was wrongly blamed for violence against minorities, he mentioned the attacks on churches in Delhi in the run-up to Delhi Assembly polls two years back. He said investigations had subsequently revealed that some drunkard or some urchin had damaged a church.
"But an impression was given that India had become intolerant", he said, adding New York Times had then written an article about it, damaging India's image.
Close Story
Personalise your news feed. Follow trending topics