No tracking devices in public transport vehicles for a year
For new commercial public transport vehicles such as buses and taxis, the government is likely to defer the mandatory installation of tracking systems and panic buttons by three months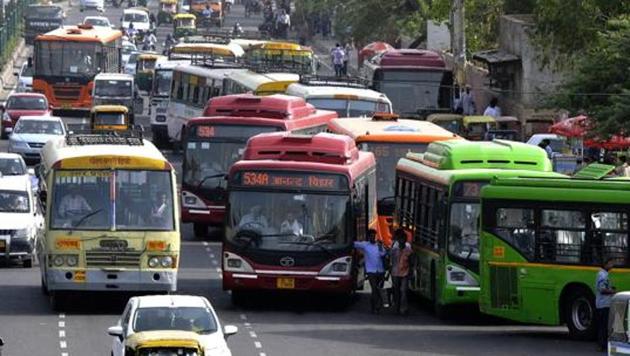 Updated on Apr 20, 2018 07:43 AM IST
Failure to set up control rooms to monitor vehicle tracking systems and panic buttons in buses and taxis has forced the central government to extend by a year the April 1, 2018 deadline for mandatory installation of these devices in all commercial public transport vehicles, two senior officials familiar with the matter said.
For new commercial public transport vehicles such as buses and taxis, the government is likely to defer the mandatory installation of tracking systems and panic buttons by three months.
"We will take a decision on the new deadline for new buses and taxis shortly," said one of the officials cited above. The official, from the Union road transport and highways ministry, did not want to be named.
The deferment of the deadline exposes the government's failure to implement promised measures to improve safety in public transport facilities following the brutal gang rape and murder of a 23-year-old physiotherapy student on a moving bus in the capital in December 2012
With none of the states putting in place back-end infrastructure necessary to monitor the functioning of vehicle tracking systems and use of panic buttons in buses and taxis, the ministry had to extend the deadline, the first official cited above said.
The government also had to consider representations made by vehicle manufacturers and the All India Motor Transport Congress (AIMTC) about the non-availability of these devices in sufficient numbers.
"Setting up of control and command rooms will take time. That is why we have extended the timeline," said the second official, who also asked that he not be named.
It was in November 2016 that the road ministry issued a notification setting the April 1 deadline for installation of vehicle tracking systems and panic buttons in the five million commercial public transport vehicles in the country.
In January 2018, the ministry reissued the notification.
"OEMs (original equipment manufacturers) will fit these devices if the government directs them to. But without a control room to track (them), installing these devices means nothing. It is as good as not having them. Pressing a panic button won't help," said a senior functionary of the Society of Indian Automobile Manufacturers who did not want to be named.
"Considering that the April 1, 2018 deadline was fixed a year-and-a-half ago, the government should have ensured that all the systems are in place," said SK Mittal, president of AIMTC.
"Why was it not done? Also, the government will have to ensure that there are enough number of such devices in the market. One can't issue such an order in isolation," he said.
The road ministry is now planning to enlist the Centre for Development of Advanced Computing, the research and development organisation under the ministry of electronics and information technology, to set up command and control centres to track these devices.
Close Story