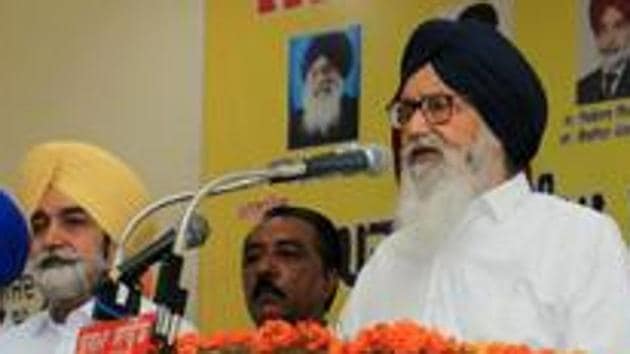 Not supposed to make a list of mistakes, Guru knows all: Badal
Badal did not respond to queries on issues such as the Bargari sacrilege.
UPDATED ON DEC 11, 2018 07:12 AM IST
Refusing to speak on politics and to specify mistakes for the atonement of which the Shiromani Akali Dal (SAD) had organised an Akhand Path at the Akal Takht, party patriarch and former five-time Punjab chief minister Parkash Singh Badal said on Monday, "The Guru knows our mistakes very well." He added that they (the SAD) did not need to specify the mistakes publicly.
Badal's son, SAD president and former deputy chief minister, Sukhbir Singh Badal, left the Golden Temple after the 'bhog' (conclusion) of the 'Path'. The only words Sukhbir uttered were 'Path Karea Karo' (Recite gurbani). Badal, party spokesperson Daljit Singh Cheema, and media adviser to Badal, Harcharan Bains, addressed the media at the information office of the shrine.
Also Read: Assembly Election Results 2018 LIVE Updates
Queried again on the mistakes over their 10-year rule, Badal said, "I was not supposed to give the Guru Sahib a list of the mistakes. The Guru Sahib is present among us and knows everything without specifying. The Guru Sahib always forgives their servants." He added, "The SAD is the jathebandi (organisation) of the Khalsa Panth and it follows the path shown by the Guru Sahib... it was a three-day religious programme the party chalked out to seek forgiveness for inadvertent mistakes that the SAD or the SGPC committed."
Badal did not respond to queries on issues such as the Bargari sacrilege. "This was a religious practice and is not an occasion to talk politics. We speak on political issues throughout the year. On this occasion, we don't want to make this practice political."
Close