Latest from shiromani akali dal
In Punjab, groups and interests have coalesced around parties: the Shiromani Akali Dal (SAD), originally an explicitly religious party representing the rural Sikh class, and the Congress, having roots across social groups, including the state's Hindus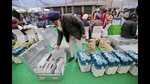 By
Bhanu Joshi, Ashish Ranjan, Neelanjan Sircar
"We will make a new Punjab," Sidhu said while addressing the media in Amritsar. Both leaders are up against each other from the high-profile Amritsar East constituency.

Earlier in the day, Congress' Punjab president Navjot Singh Sidhu's sister Suman Toor alleged that the latter abandoned their mother after the death of their father in 1986 in a "cold blooded" manner.

Written by Sharangee Dutta | Edited by Poulomi Ghosh
, New Delhi
The SC on Thursday orally asked the Punjab government not to take any coercive step against SAD leader Bikram Singh Majithia till January 31 when it hears his pre-arrest bail plea in a drugs case.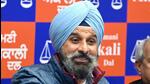 The Shiromani Akal Dal leader is also contesting the polls from his hometurf Majithia, which he has represented for the past three terms.