Latest from sukhbir singh badal
Kamaldeep Kaur met jailed brother Balwant Singh Rajoana, who is on the death row for assassinating former chief minister Beant Singh, before agreeing to contest.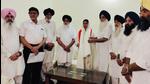 Updated on Jun 04, 2022 08:37 PM IST
Taking to Twitter, the SAD president urged the external affairs minister to take up the issue of safety of Sikhs with the Pakistan government.

Published on May 15, 2022 02:45 PM IST
In an order issued on the eve of voting, Punjab's chief electoral officer directed the registration of two separate FIRs in Mohali after the AAP and the SAD lodged complaints against each other.

Published on Feb 20, 2022 02:33 AM IST
Punjab election: Charanjit Singh Channi, Bhagwant Mann and Sukhbir Singh Badal have emerged as the crucial swingers in the Punjab elections. HT asked them 10 questions on the issues that hold the key to their electoral fate and Punjab's future.

Updated on Feb 16, 2022 04:12 PM IST
"We are the only Punjabi party; the rest are national," said Sukhbir Singh Badal.

Published on Feb 16, 2022 03:53 AM IST