Ten soldiers killed, several missing after avalanches hit Kashmir's Gurez sector
Updated on Jan 26, 2017 08:55 PM IST
Ten officers died after an avalanche hit an army camp on Wednesday night at north Kashmir's Bandipora district, said police.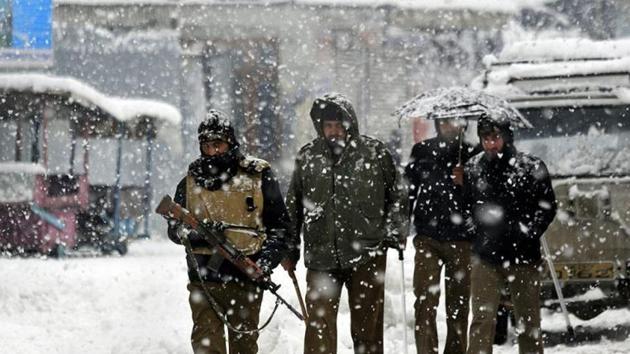 Hindustan Times, Srinagar |
Ashiq Hussain
At least 10 soldiers were killed and several colleagues are missing after avalanches hit an army camp and a patrol in north Kashmir's Bandipora, officials said on Thursday.
They are the latest casualties in the Kashmir Valley swamped by heavy snowfall.
The twin incidents happened barely hours after an Army major was killed in Ganderbal district, also in an avalanche.
A military spokesperson said 10 bodies were recovered since an avalanche struck the camp in the Gurez sector on Wednesday night and a patrol team was buried under a separate snowslide earlier.
Police informed that the men belonged to 51 Rashtriya Rifles.
Rescue teams are working to detect at least four missing soldiers, feared trapped under several feet of snow and rock debris. But the progress is slow because of the harsh weather and terrain.
"Search operations helped us rescue a JCO (junior commissioned officer) and six soldiers, while the bodies of three more could be retrieved this morning (Thursday)," said the army spokesman, giving details about the incident at the camp.
From the patrol, only seven bodies have been recovered.
Read | Despite risk to soldiers, Siachen is vital to India's security
Kashmir has been witnessing one of the severest winters since 2006 and 1992, with heavy snow across the territory and temperature dropping to minus 7 degrees Celsius. But conditions are expected to improve from January 27.
Besides militancy, weather has been a major adversary of armed forces in Kashmir. Avalanches caused a third of the army fatalities between 2007 and 2012 in the Valley.
On February 3 last year, 10 soldiers were killed after an avalanche hit Siachen Glacier, the world's highest and coldest battlefield.
The latest disaster zone is close to the Line of Control (LoC), the de facto border with Pakistan.
The Army did not specify the number of missing soldiers. But superintendent of police S Zulfikar said four men were unaccounted for.
Police said heavy snow damaged 13 houses, three shops and a shrine in Budgam and Ganderbal districts. About 150 people were evacuated on Wednesday from avalanche-prone Khadiyall and Ismarg villages of Gurez.
Since the start of heavy snowfall on Tuesday, at least seven civilians have died in the Valley.
Authorities have issued avalanche warnings, advising residents in mountainous areas not to venture out.
Read | A question about Siachen hero's death: Why are our soldiers dying
Personalise your news feed. Follow trending topics