Opposition parties flay Adityanath govt's move to withdraw Muzaffarnagar riot cases
Hindustan Times, Meerut |
S Raju
Mar 25, 2018 11:32 PM IST
Leaders of several opposition parties claim the move is politically motivated aimed at placating Jat community and protecting accused BJP leaders.
Leaders of several opposition parties on Sunday questioned the Yogi Adityanath-led BJP government's move to withdraw cases pertaining to 2013 Muzaffarnagar communal riots that claimed more than 60 lives and displaced over 40,000 people.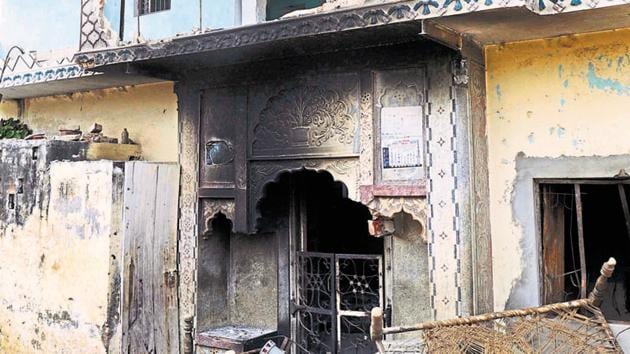 The Uttar Pradesh government has reportedly sent letters to the district administration last month seeking reply on a list of 13 points to facilitate withdrawal of 131 cases.
"Why only 131 cases? If they really want to withdraw cases against innocent people, they should examine the cases against 7,000 villagers. Many of them are still in jail. The government is playing politics on the issue," state spokesman of the Rashtriya Lok Dal (RLD) Sunil Rohta said.
He alleged the government's plan was to selectively withdraw cases against BJP leaders.
"All innocent people, irrespective of their caste and community, should be protected. Action should be taken against those who were involved in inciting violence," he said, adding that the BJP leadership was worried about the party's waning support and wanted to win over Jats by withdrawing cases.
"The Centre has done nothing for farmers in the last four years and targeted Jat community in Haryana, west UP, and Rajasthan," he said.
Rubbishing the allegation that the proposed withdrawal of cases was politically-motivated, former UP BJP president Laxmikant Bajpai said: "The government has sought the report of district administrations on different points. The report will then be examined by the ministry of law and by ministry of home affairs. It is a long process. The opposition is reacting on an issue which does not exist as of now."
But opposition leaders are not convinced. Former MP and senior leader of the Bahujan Samaj Party (BSP) Qadir Rana said instead of appeasing a particular community, the government should withdraw cases against innocent people. "This decision will send a wrong message in the society," he said.
President of the Meerut unit of the Samajwadi Party Chaudhary Rajpal Singh said it was an attempt of the BJP government to win the support of Jat voters but the move would boomerang.
He said the cases were pending in the court, which would ultimately take a call on the withdrawal. "If innocent people have been implicated, the police have all the right to drop charges against them," Singh said.
President of the Bharatiya Kisan Mazdoor Manch Gulam Mohammad Jaula described the move as a political stunt of the BJP.
"Jats are angry with the BJP and are returning to Ajit Singh's RLD. The BJP leaders are worried and are using political gimmicks to please the community. It won't be a cakewalk for the BJP this time. The party believes in politics of divide and rule," Jaula said.