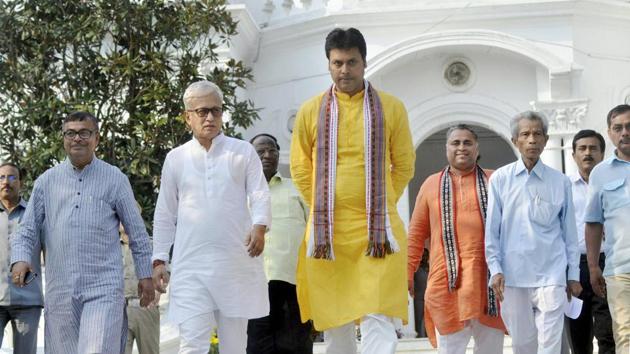 Power tussle in Tripura between Biplab Deb and Sunil Deodhar worries BJP
The tug-of-war between Biplab Deb and Sunil Deodhar comes at a time when Deb is in the midst of controversies over his outrageous remarks over the past few weeks
UPDATED ON MAY 03, 2018 09:21 AM IST
A tussle between Tripura chief minister Biplab Deb and the party's in-charge for the northeastern state, Sunil Deodhar, has the BJP's leadership in Delhi worried, two leaders familiar with the matter said.
The tug-of-war between the two leaders comes at a time Deb is in the midst of controversies over his outrageous remarks over the past few weeks.
The duo of Deb and Deodhar is credited with bringing down the 20-year-long CPM rule in Tripura, but the two fell out soon, one of the two leaders cited above said on condition of anonymity. Deodhar had opposed the elevation of the 47-year-old Deb as the chief minister in March and the chief minister is now getting back at him, the first leader added. Deodhar wanted Congress turncoat Sudip Roy Barman, currently the health minister, as Tripura chief minister according to this person.
The second leader, who asked not to be identified, said the equation between the two took a hit during the ongoing controversy over Deb's remarks.
The chief minister brought to the notice of the party leadership that Deodhar "liked" on his Facebook page certain critical remarks against the CM and added that the party in-charge's loyalists were amongst those that shared fake news reports about PM Narendra Modi summoning the CM to Delhi to give him a talking to. The sparring hides a larger problem, the second leader admitted.
"As in-charge of the state, Deodhar wants to have say in Tripura. As chief minister, Deb wants to be in total command. The problem lies here," this person said.
This has also resulted in uncharacteristic behaviour, according to the second leader. For instance, Deodhar has started taking part in private events such as the inauguration of an automobile showroom in Agartala last week, this person added — a move that did not find favour with BJP top brass in the state and Delhi.
Deodhar was missing from the BJP's state executive committee meeting in Tripura last month, and also skipped a workers conference in Agartala on Tuesday.
A call to the Chief Minister's office for a reaction to this story did not elicit a response.
Deodhar said the reports about differences between him and the chief minister are totally incorrect. "I needed to win the state. It was a difficult state, so I spent two years here. After victory I had a backlog of work for my organization, which I am completing now," Deodhar said.
Deodhar said now he spends only two to three days in a fortnight in Tripura and had informed the party that he would not be able to attend the meeting in Agartala because of his prior engagement with a programme organized by the Agra unit of the RSS. He added that he doesn't remember anyone liking antiDeb comments on his Facebook . "Earlier I used to run my page and like all positive comments to encourage interaction. I am not handling it on my own (now), but I have not posted anything (against Deb). I will check."
Close