Parakram Diwas 2023: Who are 21 Param Vir Chakras after whom islands are named?
Updated on Jan 23, 2023 06:34 PM IST
Here's a look at the gallant actions of the 21 Param Vir Chakra awardees, bravehearts who laid down their life for the nation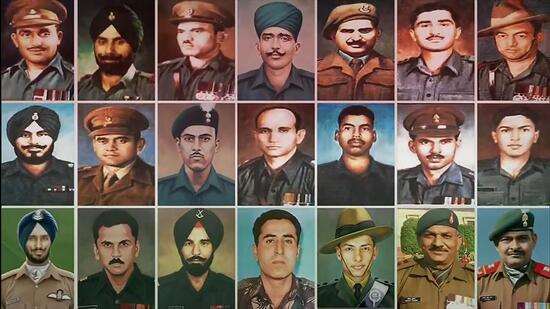 Prime Minister Narendra Modi participated in a ceremony to name the 21 largest unnamed islands of Andaman & Nicobar Islands after 21 Param Vir Chakra awardees on Monday, marking Parakram Diwas, the birth anniversary of Netaji Subhas Chandra Bose. During the programme, the Prime Minister also unveiled a model of the National Memorial dedicated to Netaji to be built on Netaji Subhas Chandra Bose Dweep.
Here's a look at the gallant actions of the 21 bravehearts who laid down their life for the nation.
Major Somnath Sharma
Major Somnath Sharma was the first person to be honoured with the Param Vir Chakra Award as he was martyred while staving off an enemy attack on the Badgam aerodrome in Kashmir Valley on November 3, 1947. He was personally filling magazines and issuing them to the light machine gunners when an explosion killed him. His martyrdom delayed the enemy for six hours.
Naik Jadunath Singh
On February 6, 1948, Naik Jadunath Singh commanded a forward post at Tain Dhar near Naushera in Jammu & Kashmir when the enemy attacked. In a brave solitary charge, Singh rushed towards the enemy with his sten gun, despite being alone and wounded, due to which they fled in disorder. However, he lost his life in the fray.
Also read | Attempts were made to suppress Netaji's contribution: PM Modi on Parakram Diwas
Second Lieutenant Rama Raghoba Rane
On April 8, 1948, Second Lieutenant Rama Raghoba Rane of Bombay Sappers, was in charge of the mine and roadblock clearing party at Mile 26 on Naushera-Rajouri road. The enemy started heavy shelling of the area and despite being wounded Second Lieutenant Rane navigated a tank through the minefield.
Company Havildar Major Piru Singh
On July 18, 1948, CHM Piru Singh of 6 RAJ RIF braved heavy MMG fire and a volley of grenades to attack an enemy occupied hill feature at Thithwal in Jammu & Kashmir. Crawling forward with blood dripping from his face he destroyed the enemy position before breathing his last.
Lance Naik Karam Singh
On October 13, 1948, Lance Naik Karam Singh of 1 SIKH was commanding a section at Richhmar Gali in Jammu & Kashmir when the enemy commenced its attack with heavy shelling of guns and mortars. Despite bleeding profusely, Lance Naik Karam Singh went from bunker to bunker, encouraging his comrades to fight. They finally launched a counter attack and charged at the enemy with their bayonets to defend Richhmar Gali.
Captain Gurbachan Singh Salaria
On December 5, 1961, Captain Salaria was ordered to clear a roadblock established by Katangese troops in Elizabethville, Katanga. Captain Salaria's men charged the enemy with bayonets, khukris and hand grenades, killing 40 and destroying two enemy cars. Captain Salaria, despite being wounded in the neck, continued fighting, till he succumbed to his injuries. His bold and courageous action completely demoralised the enemy, who fled despite their large numbers.
Major Dhan Singh Thapa
A braveheart of the 1962 Indo-China war, Major Dhan Singh Thapa's post on October 20, 1962, was attacked by Chinese troops through intense artillery and mortar bombardment. Under his leadership, the outnumbered post countered the attack, inflicting heavy casualties on them.
Subedar Joginder Singh
Subedar Joginder Singh's platoon of 1 SIKH repulsed two Chinese attacks in Bumla, Arunachal Pradesh, wherein the enemy suffered heavy losses on 23 October 1962. Under his leadership, the platoon stubbornly held its ground and he attained martyrdom during a bayonet charge.
Major Shaitan Singh
Major Singh was commanding a company of 13 KUMAON at Rezang La in Jammu & Kashmir at a height of about 17,000 feet when on 18 November 1962, Chinese troops attacked. Major Shaitan Singh, despite being grievously wounded, continued to encourage and lead his men who inflicted heavy casualties on the enemy.
Lieutenant Colonel Ardeshir Burzorji Tarapore
Lieutenant Colonel A.B. Tarapore was a braveheart of the 1965 War who on September 11, 1965, led his regiment to attack against an enemy's charge. Despite being wounded, Lieutenant Colonel Tarapore declined to be evacuated and led his Regiment to capture Wazirwali, Jassoran and Butur-Dograndi.
Company Quatermaster Havildar Abdul Hamid
CQMH Abdul Hamid served in 4 GRENADIERS in Khem Karan Sector when on September 10, 1965, Pakistan forces launched an attack with Patton tanks in Khem Karan sector. Under intense enemy fire, Hamid led his squad to destroy seven Pakistan tanks before getting mortally wounded.
Lance Naik Albert Ekka
Lance Naik Ekka led the forward company of 14 GUARDS during the attack on the enemy defences in Gangasagar in the Indo-Pak War of 1971. On December 4, 1971, Lance Naik Ekka charged an enemy bunker, silenced two machine gun bunkers who were raining heavy fire on our forces.
Flying Officer Nirmal Jit Singh Sekhon
On December 14, 1971, Srinagar airfield was bombed and strafed by six Pakistani Sabre aircraft. In spite of immense risk to life for attempting to take off during the air attack, Flying Officer Nirmal Jit Singh Sekhon of 18 Squadron engaged with four Pak Sabres aircraft. He was martyred after being shot down by one of the Sabres.
Major Hoshiar Singh
Major Hoshiar Singh, on December 15, 1971, was ordered to capture the enemy locality of Jarpal when his company came under intense shelling. He led the charge and captured an objective after a fierce hand-to-hand fight.
Second Lieutenant Arun Khetarpal
On December 16, 1971, Second Lieutenant Arun Khetarpal of 'A' Squadron, opted to reinforce 'B' Squadron at Shakargarh sector. He reached 'B' Squadron position and personally destroyed five enemy tanks. He was badly injured and was ordered to pull back, which he declined.
Naib Subedar Bana Singh
On June 26, 1987, Naib Subedar Bana Singh of 8 JAK LI volunteered to clear Quaid Post, held by Pak Army in the Siachen Glacier, at an altitude of 21,000 feet. Naib Subedar Bana and his team charged with their bayonets and killed some Pakistani soldiers while the remaining jumped off the cliff in fear.
Major Ramaswamy Parameswaran
On November 25,1987, when Major Ramaswamy Parameswaran of 8 MAHAR's column was ambushed by a group of militants. With a presence of mind, he encircled the militants from the rear and attacked them, taking them by surprise. His courageous actions resulted in five militants getting killed and numerous weapons and ammunition being recovered.
Lieutenant Manoj Kumar Pandey
Lieutenant Manoj Kumar Pandey of 1/11 GORKHA RIFLES was tasked to clear Khalubar Ridge in Batalik, Jammu & Kashmir. On July 3, 1999 as his company was advancing, it came under heavy enemy fire responding to which he fearlessly assaulted the enemy, killing four enemy troops and destroying two bunkers.
Grenadier Yogender Singh Yadav
Grenadier Yogender Singh Yadav of 18 GRENADIERS was part of the Ghatak Platoon assigned to capture Tiger Hill Top in Drass, Jammu & Kashmir. On July 3, 1999, under heavy enemy fire, he charged on a bunker and killed three Pakistani soldiers. Inspired by his bravery, his platoon captured Tiger Hill Top.
Rifleman Sanjay Kumar
As the leading Scout of a company of 13 JAK RIF, Rifleman Sanjay Kumar, was assigned to capture the area Flat Top on July 4, 1999 in Mushkoh Valley, Jammu & Kashmir. He killed three of the intruders and after picking up a Universal Machine Gun killed the fleeing enemy. His comrades charged and captured area Flat Top.
Captain Vikram Batra
Captain Vikram Batra of 13 JAK RIF, was tasked to capture Point 5140. In a feat of bravery, he killed four enemy troops in close combat battle. On July 7, 1999, in a fierce hand-to-hand fight, he killed five enemy soldiers. Despite suffering grave injuries, he led his men from the front and pressed on the attack, before attaining martyrdom. Inspired by his valour, his troops captured Point 4875.