Attempts were made to suppress Netaji's contribution: PM Modi on Parakram Diwas
Jan 23, 2023 12:29 PM IST
Prime Minister Narendra Modi unveiled the model of the National Memorial dedicated to Netaji to be built on Netaji Subhas Chandra Bose Dweep, earlier known as Ross Islands.
Attempts were made to suppress Netaji Subash Chandra Bose's contribution towards India's freedom struggle but the entire nation is remembering him today, Prime Minister Narendra Modi said on Monday after unveiling the model of proposed memorial dedicated to the iconic freedom fighter. PM Modi said that the entire nation, right from Delhi and Bengal to Andaman and Nicobar Islands, is paying tribute to Netaji by preserving heritage associated with him.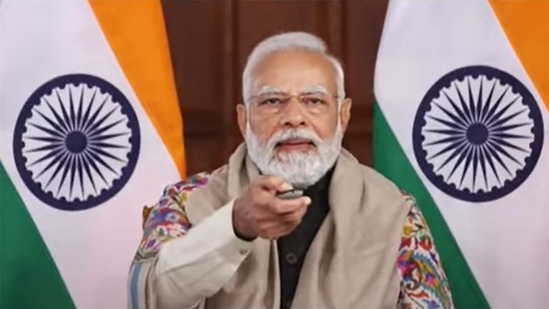 "Today, the 21st century is seeing how Netaji Subhash, who was tried to be forgotten after independence, the country is remembering the same Netaji every moment," PM Modi said.
The prime minister also highlighted the government's effort to declassify the files related to Netaji, which, he said, had been a public demand for a long time.
"For decades, there was a demand to declassify the files related to Netaji. The nation also did this work with full devotion," he said.
Critising the previous governments, PM Modi further stated that numerous projects related to Netaji have been completed in the past few years that "should have been done immediately after independence."
"For decades, the potential of the country was underestimated. But now, India is seen as capable of touching the heights of modern development. The islands of India can offer a lot to the world. But earlier this potential was not recognised, no action was taken," he added.
He made the remarks on the occasion of Netaji's birth anniversary, which is now celebrated as Parakram Diwas.
Prime Minister Modi also named 21 large unnamed islands of Andaman and Nicobar after Param Vir Chakra awardees. The largest unnamed island was named after the first Param Vir Chakra awardee, Major Somnath Sharma, who was martyred in action on November 3, 1947 while repulsing Pakistani infiltrators near Srinagar Airport.
The 21 Param Vir Chakra awardees, after whom the islands have been named are: Major Somnath Sharma; Subedar and Hony Captain (then Lance Naik) Karam Singh, MM; 2nd Lt. Rama Raghoba Rane; Nayak Jadunath Singh; Company Havildar Major Piru Singh; Capt GS Salaria; Lieutenant Colonel (then Major) Dhan Singh Thapa; Subedar Joginder Singh; Major Shaitan Singh; CQMH. Abdul Hamid; Lt Col Ardeshir Burzorji Tarapore; Lance Naik Albert Ekka; Major Hoshiar Singh; 2nd Lt. Arun Khetrapal; Flying Officer Nirmaljit Singh Sekhon; Major Ramaswamy Parameswaran; Naib Subedar Bana Singh; Captain Vikram Batra; Lt Manoj Kumar Pandey; Subedar Major (then RifleMan) Sanjay Kumar; and Subedar Major Retd (Hony Captain) Grenadier Yogendra Singh Yadav.
"'India First' was the only resolution for all 21 Paramveers. Today in the naming of these islands, their resolution has become immortal forever," PM Modi said.