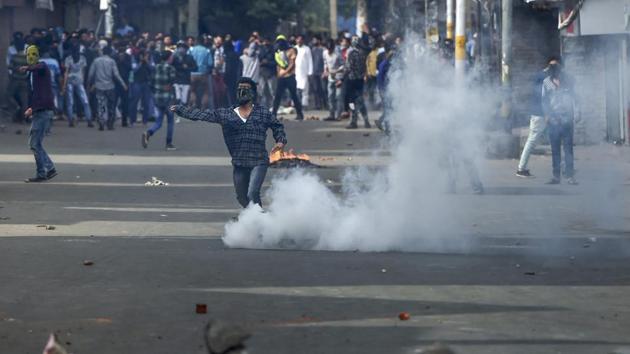 Last phone call between trapped Kashmiri militant and his father goes viral
Hizbul's Aitmad Hussain Dar, an MPhil degree holder and junior research fellow, broke down in tears during the conversation.
Srinagar,HIndustan Times | By Ashiq Hussain
, Srinagar
UPDATED ON APR 07, 2018 08:15 AM IST
"Abuji, please forgive me. I could not fulfil the promise made to you,"
A moving telephone conversation between a militant trapped in a security cordon and his family has gone viral on social media in Kashmir, underlining the personal and emotional cost of violence in the restive state.
The last phone call between Aitmad Hussain Dar, 28, a Hizbul Mujahideen militant of south Kashmir's Shopian, and his family on Sunday was recorded just before he was killed in a gun battle on Sunday.
Aitmad, an MPhil degree holder and junior research fellow, who joined the militant group last November, was killed along with his four accomplices in the gunfight with security forces in Kachdoora village from where he was calling his family.
Aitmad called his brother on the phone and sought forgiveness for his mistakes. "Please forgive me for my mistakes. I am trapped (in an encounter)," Aitmad tells his brother and breaks down.
The call sent the family into mourning and the women of the household could be heard grieving.
"Lagya wandith (I be sacrificed for you)," the father told the son in chaste Kashmiri whose essence can't be translated. "Why are you crying?"
Crying, the son responded by asking for forgiveness since he could not fulfil his promise to him.
The father asked him where he was trapped and urged him to "remain steadfast and have patience". "I won't tell you to surrender. I can't tell you that," he said. Aitmad responded, "No, no…" and adds, "Abu ji, I just want you to be pleased with me and God will also be happy with me."
"Lagya wandith," the father said again as the women in the background shout and cry.
"Is there any chance of escaping?" the father asked and when the militant son responded in negative, the father said, "If you can escape, do it, if not then what can be done."
"No, we tried a lot. Abrar bhai (another militant) has been hit by a bullet in the head," Aitmad said.
The phone is then taken by injured Abrar (Ishfaq Thokar) who is stumbling for words. "Excuse me, I have been hit by a bullet in my head so I am not able to speak properly, forgive me. Can I get the phone number of my father," Abrar could be heard saying.
Superintendent of Police, Shopian, Shriram Ambarkar Dinkar, said the conversation looked authentic and the militant was Aitmad . "Aitmad is crying in the conversation," Dinkar said.
The other three militants killed in the encounter were Aqib Bashir, Sameer Lone and Gayas ul Islam, all residents of south Kashmir. Three army soldiers — Lance Naik Nilesh Singh, Gunner Arvinder Kumar and Sepoy Hetram — were also killed in the operation.
Close