PM Modi concludes interaction with Indian community in Berlin: Highlights
May 02, 2022 11:51 PM IST
PM Narendra Modi in Europe: After Germany, the prime minister will visit Denmark, and conclude his three-day Europe visit in France, where he will meet recently re-elected French president Emmanuel Macron.
PM Narendra Modi in Europe: Prime Minister Narendra Modi on Monday was in in Berlin, Germany, for the first leg of his three-day, three-nation visit to Europe. During his trip to the German capital, the prime minister's engagements included a meeting with Chancellor Olaf Scholz and an address to members of the Indian community. On Tuesday, PM Modi will meet his Danish counterpart Mette Frederiksen in Copenhagen, and, in the final leg of his visit, will call upon French president Emmanuel Macron in Paris.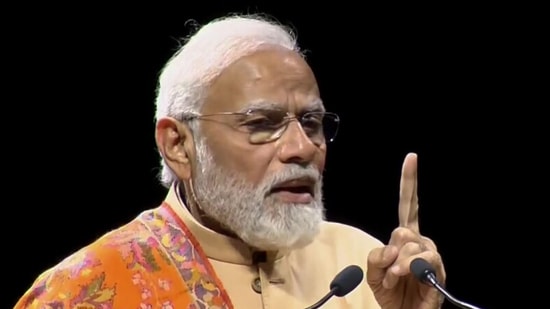 This is PM Modi's first foreign trip of the year and the first since the Russian invasion of Ukraine. "My visit to Europe comes at a time when the region faces many challenges and choices, the prime minister had said. The Ukraine conflict will be a key focus during the tour although the key focus will be cooperation in energy, trade and green development.
Follow all the updates here:
May 02, 2022 11:51 PM IST

PM Modi concludes his address

PM Modi concludes his interaction with members of the Indian diaspora, in Berlin.

May 02, 2022 11:41 PM IST

New India not afraid of taking risks, says PM Modi

New India doesn't think of a secure future alone. It takes risks, it innovates, it incubates. I remember that around 2014, our country had only 200-400 startups. Today, the country has more than 68,000 startups: PM Modi

May 02, 2022 11:38 PM IST

It took 7 decades to implement 1 nation, 1 Constitution: PM Modi

"Earlier there was one nation but two constitutions. It took seven decades to implement one nation and one constitution. It has been implemented only now," says PM Modi.

May 02, 2022 11:15 PM IST

India working together on every solution to tackle climate challenge: PM Modi in Berlin

PM Modi addresses Indian community in Berlin. He talks about climate change, and says India is "working together on every solution" to tackle the climate challenge.

May 02, 2022 10:21 PM IST

In Germany, PM reiterates call to end Ukraine war

PM Modi during his joint press conference with German Chancellor Olaf Scholz on Monday reiterated India's call for an end to the Ukraine war, highlighting that no side will emerge triumphant from the conflict. Read more.

May 02, 2022 09:20 PM IST

PM Modi to address community programme in Berlin shortly

PM Narendra Modi to address a community programme in Berlin, Germany. Taking to Twitter, PMO India shared a picture of the venue where the event will take place. "Community connect! In a short while from now, PM @narendramodi will address a community programme in Berlin," the tweet read.

May 02, 2022 07:49 PM IST

'Happy that my first foreign trip of 2022 is in Germany': PM Modi

In Germany, PM Modi says that he is "happy" his first foreign trip of 2022 is happening in the European nation. "I am happy that my first foreign visit of 2022 is happening in Germany, and my first telephonic conversation with any foreign leader happened with my friend Chancellor Olaf Scholz. Holding of the IGC shows how much importance we place in our strategic ties," Modi added after his talks with Scholz. Read more.

May 02, 2022 07:40 PM IST

German Chancellor invites PM Modi for G-7 summit

German Chancellor Olaf Scholz invited Prime Minister Narendra Modi for G-7 summit in Germany on Monday.

May 02, 2022 04:46 PM IST

PM Modi accorded Guard of Honour in Berlin

Prime Minister Narendra Modi has been accorded the Guard of Honour at the forecourt of the Federal Chancellery in Berlin, Germany. He is on a three-day visit to Europe.

May 02, 2022 03:46 PM IST

PM Modi signs portrait of him made by young girl in Berlin, she calls him 'my icon'

Prime Minister Narendra Modi was greeted by people of different ages of the Indian diaspora as he arrived in Berlin, Germany earlier today. A girl named Manya showed the PM a painting of him that she made, with Modi commenting a "shabash (kudos)". "It was a wonderful experience meeting the PM. He is my icon. He signed the painting I made of him and told me 'shabash'," she was quoted as saying by news agency ANI. Read more.

May 02, 2022 01:41 PM IST

Germany eyes European defence firms to offer India an alternative to Russian arms

Germany also wants European defense companies to offer India an alternative to Russian weapons deliveries, as a way to reduce its reliance on Moscow. No deals or agreements are expected to be sealed on Monday. Full report

May 02, 2022 01:18 PM IST

PM Modi tweets in German after meeting Indian diaspora

Prime Minister Modi tweeted in German after meeting the Indian diaspora in Berlin. "It was still early in the morning in Berlin, but many people from the Indian community stopped by. It was wonderful talking to them. India is proud of what our diaspora achieves," the tweet read.

May 02, 2022 12:13 PM IST

Germany to woo India with G-7 invite in push to isolate Russia

German Chancellor Olaf Scholz plans to invite Indian Prime Minister Narendra Modi as special guest to a Group of Seven leaders' summit next month as part of an effort to forge a broader international alliance against Russia. Germany, which currently holds the rotating G-7 presidency, will also welcome the leaders of Indonesia, South Africa and Senegal to the gathering in the Bavarian Alps June 26 to June 28, said people with knowledge of the matter. Full report

May 02, 2022 11:53 AM IST

Watch: Indian boy sings patriotic song, PM Modi praises him

Prime Minister Narendra Modi heaped praise on an Indian boy in Berlin who sang a patriotic song before him.

May 02, 2022 11:36 AM IST

We are excited to meet PM Modi, say NRIs

The Indian diaspora is jubilant on Prime Minister Narendra Modi's arrival in Berlin and have said they are looking forward to meet him. Check out their reactions.

May 02, 2022 11:05 AM IST

Watch: PM Modi interacts with kids in Berlin

Prime Minister Narendra Modi is in Berlin in the first leg of his three-day European trip. He will be meeting his German counterpart Olaf Scholz and the business leaders during his stopover. He was accorded a grand welcome from the Indian diaspora upon his arrival in the German capital. He interacted with children in this video. Check full itinerary

May 02, 2022 10:53 AM IST

PM Modi accorded grand welcome from Indian diaspora

Prime Minister Narendra Modi was welcomed by the NRIs upon his arrival in Berlin. He interacted with the Indian diaspora at the German capital.

May 02, 2022 10:46 AM IST

After Germany, PM Modi will head to Denmark

From Berlin, Modi will travel to Copenhagen on May 3 where he will have a bilateral meeting with Prime Minister Frederiksen during which the two leaders would review the progress in India's unique 'Green Strategic Partnership' with Denmark, as well as other aspects of bilateral relations.

May 02, 2022 10:21 AM IST

'Confident…: PM Modi tweets after reaching Berlin.

Prime Minister Narendra Modi tweeted soon after arriving in Berlin. He will hold bilateral meet with his German counterpart Olaf Scholz and will also meet business leaders.

May 02, 2022 10:11 AM IST

PM Modi's itinerary in Berlin

Prime Minister Modi's itinerary in Berlin.

Prime Minister Narendra Modi will be first accorded a Guard of Honour in the German capital. He will then hold bilateral meet with his German counterpart Olaf Scholz at around 4.15 pm. Both the leaders will issue press statements.

May 02, 2022 09:48 AM IST

Watch: PM Modi arrives in Berlin

Prime Minister Modi arrives in Berlin in first leg of his European visit. He will meet German chancellor Olaf Scholz

May 02, 2022 09:36 AM IST

PM's tweet before embarking on Europe trip: 'Will meet my friend Macron'

Before embarking on his European trip, PM Modi had tweeted:

"In the coming days, I will be visiting Germany, Denmark and France for important bilateral and multilateral engagements. The first leg of the visit will be in Germany, where I will meet Chancellor @OlafScholz and co-chair the 6th India-Germany Inter-Governmental Consultations."

"In Paris I will be meeting my friend, President @EmmanuelMacron, who has just been re-elected. During our talks we will take stock of various bilateral and global issues."

May 02, 2022 09:11 AM IST

Modi-Marcon meet will take India-France relations to next level

Prime Minister Narendra Modi's dinner meeting with his friend French President Emmanuel Macron on Wednesday is expected to record positive movement in India-France strategic ties, encompassing defence cooperation, maritime partnership, and the Indo-Pacific. Full report

May 02, 2022 09:04 AM IST

PM Modi to begin his 3-day Europe trip with stopover in Berlin

Prime Minister Narendra Modi will begin his three-day visit to Europe with the visit to German capital Berlin. The Ministry of External Affairs shared a video on the prime minister's scheduled engagements in the European city.

Topics

Story Saved