PM Modi to distribute 71,000 appointment letters at Rozgar Mela today
Published on Jan 20, 2023 10:54 AM IST
The prime minister will launch the Mela by distributing appointment letters to recruits who will join government departments as junior engineers, loco pilots, technicians, inspectors, sub-inspectors and constables, among others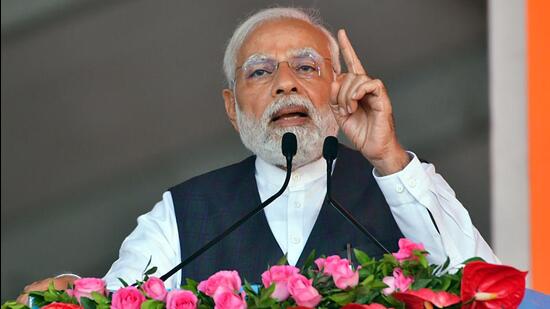 Prime Minister Modi will on Friday distribute 71,000 appointment letters to newly inducted recruits in government departments and organisations in the presence of Union minister of state for science and technology Jitendra Singh via video conferencing.
"The Rozgar Mela is a step towards the fulfilment of the commitment of the prime minister to accord the highest priority to employment generation. The Rozgar Mela is expected to act as a catalyst in further employment generation and provide meaningful opportunities to the youth for their empowerment and participation in national development," the Prime Minister's Office said in a statement.
The prime minister will launch the Mela by distributing appointment letters to recruits who will join government departments as junior engineers, loco pilots, technicians, inspectors, sub-inspectors and constables.
Other posts include stenographer, junior accountant, income tax inspector, teacher, nurse, doctor, social security officer, personal assistant and multi-task staff, among others.
The newly-inducted officials will also share their learnings from the Karmayogi Prarambh module, an online orientation course for new recruits in various government departments, including the code of conduct required to adapt to their new roles.
Under the Karmayogi Prarambh module, a code of conduct includes ethics in the workplace, integrity, human resource policies and other benefits, and allowances. The objective of this online orientation programme is to promote this code of conduct in the essence of civil service within the people of the country.
Before this, PM Modi distributed 71,000 such appointment letters on November 22 last year and over 75,000 in October.