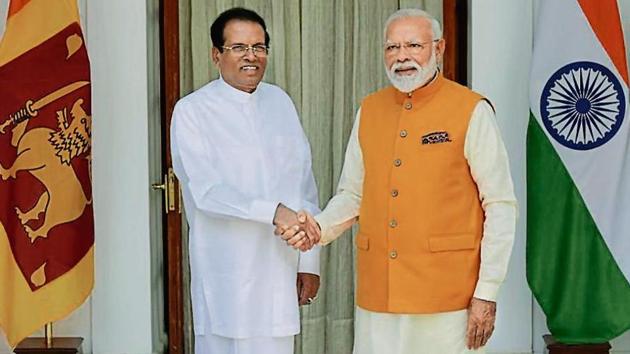 PM Modi, first foreign visitor to Lanka after attacks, to fire many messages
The minister-in-attendance who will accompany PM Modi throughout the visit will be none other than 52-year-old Sri Lankan Housing minister, Sajith Premadasa, a man who may well be the President of Sri Lanka by the end of the year.
Hindustan Times, Colombo | By Padma Rao Sundarji
UPDATED ON JUN 08, 2019 11:41 AM IST
On Sunday, PM Narendra Modi will become the first foreign dignitary to visit Sri Lanka since the bloody carnage by Islamist terrorists on Easter Sunday in April, in which more than 250 persons were killed.
India's foreign secretary and the Ministry of External Affairs (MEA) have outlined the basics of what they earlier this week called a 'short but packed visit'. The PM will meet with President Maithripala Sirisena, PM Ranil Wickremesinghe, Leader of the Opposition Mahinda Rajapaksa and Tamil National Alliance (TNA) leader R Sambandan. Foreign Secretary Vijay Gokhale described the visit as a "clear message of solidarity" and an expression of India's 'confidence in the government of Sri Lanka in overcoming this national tragedy."
A senior Sri Lankan official who do not wish to be named but is familiar with Mr Modi's itinerary, pointed out some interesting and significant details of the visit.
The minister-in-attendance who will accompany PM Modi throughout the visit will be none other than 52-year-old Sri Lankan Housing minister, Sajith Premadasa, a man who may well be the President of Sri Lanka by the end of the year. Current president Sirisena, who will not contest the presidential polls himself, is reported to have said he will back PM Ranil Wickremesinghe's UNP again only if its presidential candidate is Premadasa, and not Wickremesinghe, with whom Sirisena has been at loggerheads for most of their tenure as a coalition in power since 2015.
The official who wished to remain unnamed, said that Premadasa will sit out PM Modi's one-day visit only twice.
He will not be in the car when PM Ranil Wickremesinghe receives PM Modi and enjoys exclusive face-time with the visitor from New Delhi on the long car ride from the airport to the presidential secretariat in downtown Colombo.
Mr Premadasa will also be absent from the PM's interaction with former President and current LOP, Mahinda Rajapaksa, likely to be held at either the Indian High Commission or cultural center India House.
Finally, the official said Mr Modi is likely to head straight for St Anthony's church, which came under terrorist attack on Easter Sunday, en route from the airport to his first meeting with the President in downtown Colombo.
"There is a fear of the BJP's Hindutva agenda in Sri Lanka," the official conceded. "Therefore, Mr Modi visiting the church will not only be a photo-op for him, but will also be lauded for taking the edge off that perception here."
The deftly interspersed individual interactions planned for Mr Modi with the four Sri Lankan politicians is a clear indication that the PM is also here to test the waters of the turbulent Sri Lankan political scene, six months before presidential elections in a country which has often accused India's Research and Analysis Wing (RAW) of "influencing" the outcome of polls in Sri Lanka.
FS Vijay Gokhale touched upon various aspects of India's involvement in Sri Lanka such as its investment in railways, housing for tea plantation Tamils and the container terminal at Colombo port along with Japan. However, no fresh bilateral agreements are expected to be signed on Sunday.
Infighting and chaos on the Sri Lankan political firmament is one reason.
"How can any agreements be signed when you have a doer and fast mover like the Indian PM on the one hand, and a squabbling PM and President in Colombo who have been unable to take forward even earlier MoUs, on the other?" the official asked.
Even though the MEA downplayed the anti-terrorism element to the visit - given that India's history of cooperation over anti-terrorism against the LTTE in the past was not a resounding success and earned it scathing criticism in Sri Lanka, there are high expectations from PM Modi on this side of the Palk Straits.
"This visit is very significant in light of the Easter massacre because it is a signal from India to say that we are with you and you can look to us for help," said Iqbal Athas, political editor of Sri Lanka's largest weekend broadsheet, 'Sunday Times'. "Further, Mr Modi's visit comes at a time when the United States is trying to make inroads into Sri Lanka by pushing a controversial agreement to post a large military establishment here."
Athas says it would be simplistic to assume that India, as the US' regional security partner in the Indo-Pacific region, would support such an agreement. "Sri Lanka has become a battleground for the Chinese and the Americans. So Mr Modi is also delivering a message to Colombo: we are your friends, turn to us."
Also read: 'She was eager to join school after summer break', says UP girl's father
PM Modi will arrive in a heavily-overcast Colombo that eerily resembles the fortress that it was for nearly thirty years of the civil war against the Liberation Tigers of Tamil Eelam (LTTE). Sandbags, armored cars, sniffer dogs, armed commandos, road blocks and – long overdue – baggage screening machines at the entrance of the hundreds of hotels in this popular tourism destination all indicate the resurgence of fear after a decade of peace.
The official in the know pointed out that the "Tamil issue" itself, has been long on the backburner in Sri Lanka and that PM Modi would do well to emphasize to his Sri Lankan hosts on Sunday, how much better off Sri Lanka is that "Mr Rahul Gandhi and along with him, supporting Tamil Nadu parties did not come to power in India".
Even more than the majority Sinhalese, it is Sri Lanka's second-largest Muslim minority that is currently in the throes of the deepest fear of all. The recent weeks saw anti-Muslim riots surge in central Sri Lanka, a Buddhist monk go on a fast unto death demanding the resignation of certain Muslim governors and a mass resignation on Monday by all Muslim ministers of the Sri Lankan government, which failed to prevent the Easter attacks despite warnings not only from India but even from moderate Sri Lankan Muslim leaders themselves.
Also read: 'Don't need Ayushman Bharat, our health program 10-times bigger': Arvind Kejriwal
Tourism is another casualty. One of Sri Lanka's largest revenue-earners, tourism had taken brutal beatings during the civil war and after the 2004 tsunami. Ever since western countries and India issued travel advisories after April's Easter attacks, thousands of western tourists who flock to Sri Lanka throughout the year, have cancelled. There has been a 70% downward slide in hotel and car reservations. Big hotels are offering rock-bottom prices and small, debt-ridden family establishments in the coastal tourism belt at Hikkaduwa and Bentota have shut shop altogether.
But like in the decades before and much like PM Modi's bold gesture of solidarity in travelling to a country despite the huge security risk, Indian tourists in search of a great bargain have risen to the occasion again. Flights from India are packed with holidayers. And never mind how annoying the majority of Sri Lankans think the 'Big Brother' is, Sri Lankans are more grateful than ever.
Close