PM takes up environment impact of e-waste disposal
Jan 30, 2023 04:53 AM IST
The PM also drew attention to the need for conservation of wetlands, even as he hailed the government's efforts of the last eight years
Only 15 to 17% of the e-waste generated every year is recycled, Prime Minister Narendra Modi said on Sunday drawing attention to consequences of mounting e-waste, dedicating a major portion of the 97th edition of his Mann ki Baat radio address to environmental issues.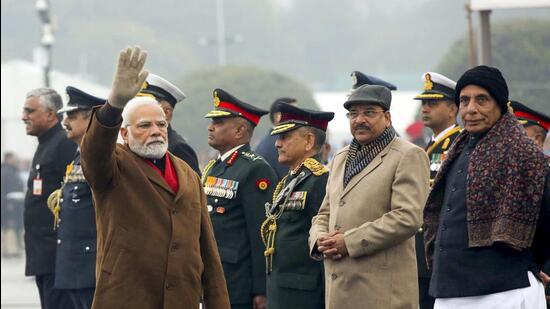 In his address, the first this year, the PM also referred to the recently conferred Padma awards, saying that the selection of candidates from various communities, more specifically the Scheduled Caste and tribal community, has been hailed.
There is a need to create awareness about the safe disposal of gadgets, the PM said.
"Today's latest devices are also e-waste of the future. When somebody buys a new device or changes an old device, it is important to know whether it is being discarded in the right way or not," he said.
ALSO READ: PM Modi addresses 1st episode of Mann Ki Baat of 2023 | Top quotes
Carefully discarded e-waste cannot only save the environment, but can also give a fillip to the economy of recycle and reuse, he said.
"A United Nations report says that nearly 50,000,000 tonnes of e-waste is generated every year. Even if all the commercial planes made in human history are weighed together, it will still be less than this amount. Every second 800 laptops are being thrown away. You will be surprised to know that almost 17 types of precious metals can be extracted from this waste, including gold, silver, copper, and nickel," the PM said, adding that there is a host of start-ups working in this direction already.
The PM also drew attention to the need for conservation of wetlands, even as he hailed the government's efforts of the last eight years.
"India today has 75 wetlands up from 26 in 2014," he said.
ALSO READ: 'Opposition will fight together': Rahul as he also targets PM Modi over China
The PM also lauded the scientific community for the rise in the number of patents filed over the last five years.
Referring to Bengaluru-based Indian Institute of Science for setting an example, he said, "This institution has 145 patents, which means in every five days two patents are filed. This in itself is a wonderful record."
"India's ranking on the global innovation index has reached 40. In 2015, India's rank was ranked below 80. I want to tell you one more interesting thing, for the first time in 11 years India's number of domestic patent filing is more than the foreign filing. It also reflects the rising scientific capability of India," he said.
The PM also urged the citizens of the country to read about the lives and stories of people who were conferred with the Padma Awards.
A sizeable number of Padma awardees came from tribal communities and people associated with tribal society, he underlined.
"Various people from tribal areas — painters, musicians, farmers, artisans — have been conferred the Padma awards. I urge all countrymen to read their inspiring stories. Many dignitaries who have worked on tribal languages like Toto, Ho, Kui, Kuvi and Manda have received these awards," PM Modi said.
"Tribal life is different from the hustle and bustle of city life and has its own challenges. Despite all this, these tribal societies are always eager to preserve their tradition. Efforts are made to preserve research related to tribal communities," he said.
ALSO READ: Not sure whether any PM other than Modi would have...: Jaishankar
People who contributed towards bringing extremist youth to the mainstream and enriched the world of music have also been felicitated, he said.
In his address, the PM also made a reference to a book, India – The mother of democracy, which illustrates the democratic principles that were prevalent in ancient India.
"Democracy is in our veins, it is in our culture, it has been an integral part of our work for centuries. By nature, we are a Democratic Society. Dr Ambedkar compared the Buddhist monks union to the Indian Parliament. He described it as an institution where there were many rules for Motions, Resolutions, Quorum, Voting and counting of votes. Babasaheb believed that Lord Buddha must have got inspiration from the political systems of that time," he said.
"As the Mother of Democracy, we should constantly think deeply about this, discuss it and inform the world. This will further strengthen the spirit of democracy in the country," the PM said.
The Prime Minister also spoke about the renewed focus on millets.
"Just as people have made yoga and fitness a part of their lives by taking active participation on a large scale; similarly people are adopting millets on a large scale. People are now making millets a part of their diet. A huge impact of this change is also visible," he said.
He also made a mention of the purple fest that was held in Goa between January 6 and 8, and referred to it as a unique effort towards welfare of differently abled people.
"I believe such campaigns will help a lot in helping achieve a vision of accessible India," he said.