'Opposition will fight together': Rahul as he also targets PM Modi over China
Jan 29, 2023 09:47 PM IST
Rahul Gandhi on Sunday unfurled the national flag at Srinagar's iconic Lal Chowk.
Rahul Gandhi on Sunday yet again targeted Prime Minister Narendra Modi over tensions with China as he accused the government of "following a dangerous approach" over the matter, suggesting that it may make the neighbouring country more brazen. He also repeated his attack on the Centre for denial of Beijing breaching boundaries. "The Prime Minister of India is frankly the only person in the country who feels that the Chinese have not taken any land from India. I recently met some ex army people. Even the delegation from Ladakh clearly said that 2,000 sq km of Indian territory has been taken over by the Chinese," the Congress leader told reporters. "I keep repeating that the approach the government is following by completely denying that Chinese have taken our land is a very dangerous approach and may gave them confidence to do more. They have to be firmly told to back off."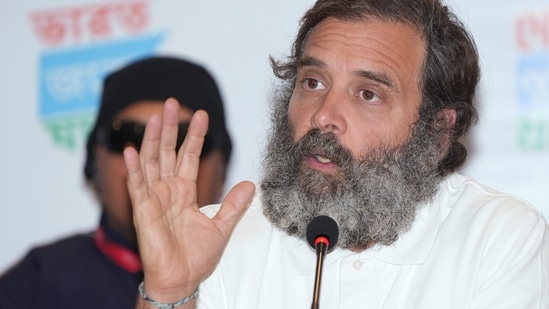 At a press briefing on Sunday, Rahul Gandhi answered a gamut of questions and one of them was about opposition unity ahead of the 2024 mega battle. "There are no fissures as far as the opposition is concerned. Why do you say that?" he told a reporter. "The opposition will fight together. It's a fight of ideology between the BJP and non-BJP, non-RSS parties." His remark was in reference to the political parties coming together ahead of the 2024 Lok Sabha polls. Rifts have appeared between the opposition parties on multiple instances in the past.
On Monday, as the Bharat Jodo Yatra concludes, all the political parties that were invited by the Congress are not likely to be in attendance. The grand old party, however, has insisted that it will continue to be an important part of the non-BJP front. In an attack on the ruling party, Gandhi - during his interaction - also said: "What the BJP and the RSS are doing is attacking the institutional structure. What you're seeing in Jammu and Kashmir is the result of the that institutional attack. Frankly being a member of Lok Sabha means nothing, want to talk about GST or any other issue - no. We have lost government after government. But this is all because of the dispensation."
His comments on China come after Foreign Minister S Jaishankar had hit out at the Congress on Saturday, reminding the party of the 1962 war. "There's a fundamental difference between 1962 and 2020-23, Mr @DrSJaishankar," Congress's media and publicity head Pawan Khera said. "In 1962, we fought hard but lost our territory. In 2020-23, we not only lost our territory, we also gave a clean chit to the one we lost our territory to."