PM Modi addresses 1st episode of Mann Ki Baat of 2023 | Top quotes
Jan 29, 2023 12:44 PM IST
Prime Minister Narendra Modi on Sunday addressed the 97th edition of his monthly radio programme 'Mann Ki Baat' - which was the first episode of 2023.
Prime Minister Narendra Modi on Sunday addressed the 97th edition of his monthly radio programme 'Mann Ki Baat' - which was the first episode of 2023. During his address, PM Modi urged the citizens of the country to read about the lives and stories of people who have been conferred with the prestigious 'Padma' Awards. He also spoke about India's ranking in the Global Innovation Index, and wetlands.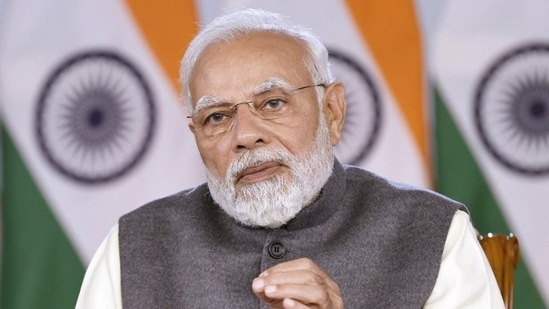 Here are PM Modi's top quotes:
1. This time among Padma awardees are those people who have expertise in spreading the melody of our traditional musical instruments like Santoor, Bamhum, and Dwitara. Ghulam Mohd Zaz, Moa Su-Pong, Ri-Singhbor Kurka-Long, Muni-Venkatappa, and Mangal Kanti Rai are being discussed all around.
2. Many great personalities who have worked on tribal languages like Toto, Ho, Kui, Kuvi, and Manda have received Padma Awards. It is a matter of pride for all of us. People working with Siddi, Jarwa, and Onge tribes have also been awarded this time.
Also read: Mann Ki Baat: E-waste can harm environment if not disposed, says PM Modi
3. A sizeable number of Padma awardees come from tribal communities and people associated with tribal society. Tribal life is different from city life, it also has its own challenges. Despite all this, tribal societies are always eager to preserve their traditions.
4. Democracy is in our veins, in our culture - it has also been an integral part of our functioning for centuries. By nature, we are a Democratic Society.
5. Just as people have made yoga and fitness a part of their lives by actively participating on a large scale, similarly millets are also being adopted on a large scale. People are now making millet a part of their diet.
6. I congratulate the listeners of 'Mann Ki Baat' for such a wonderful start to the International Year of Millets and for continuously taking it forward.
7. Have you ever heard the word Milletpreneurs? Odisha's Milletpreneurs are making headlines, a women's self-help group of the tribal district Sundargarh is associated with Odisha Millets Mission. They make biscuits, cakes and other eatables from millets.
8. Purple Fest was organized in Panaji, Goa from 6 to 8 January. This was a unique effort in itself for the welfare of the divyangs. More than 50,000 people participated in it. People were thrilled about the fact that they could now enjoy 'Miramar Beach' to the fullest.
9. Today, India's ranking is 7th in Patent Filing and 5th in Trademarks. Talking about patents alone, there has been an increase of about 50 percent in the last five years. For the first time in the last 11 years in India, the number of Domestic Patent Filing has been seen more than Foreign Filing. This also shows the growing scientific potential of India.
10. India's ranking has also improved tremendously in the Global Innovation Index and has reached the 40th position.
11. Today's latest devices are also the E-Waste of the future. Whenever someone buys a new device or replaces their old device, it becomes necessary to keep in mind whether it is discarded properly or not. If E-Waste is not disposed off properly, it can also harm our environment. But, if it is done carefully, it can become a great force for the 'Circular Economy of Recycle and Reuse'.
Also read: Amid BBC row, PM Modi cautions against 'attempts to create rift': Watch
12. Today, there is a lot of discussion around the whole world about climate change and the conservation of biodiversity. We have been continuously talking about India's concrete efforts in this direction.
13. Wetlands may be there in any country, but they have to fulfill many criteria; only then are they declared as Ramsar Sites. Now the total number of Ramsar sites in our country has increased to 75, whereas, before 2014 there were only 26 Ramsar sites in the country.
14. In Kashmir, there is a lot of enthusiasm among the youth for sports. In the coming times, many of these youths will win medals for the country and will hoist the tricolor.