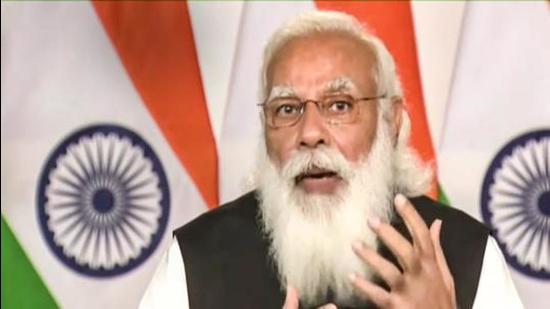 As Pradhan Sevak, I feel your pain of losing loved ones: Modi
During the session, the Prime Minister also interacted with six farmer beneficiaries from six states -- Uttar Pradesh, Andhra Pradesh, Meghalaya, Andaman and Nicobar Islands, Jammu and Kashmir, and Maharashtra
UPDATED ON MAY 15, 2021 02:16 AM IST
New Delhi Prime Minister Narendra Modi on Friday said he felt the pain people have endured amid the second wave of Covid-19 as he released the eighth instalment of over ₹20,000 crore to more than 95 million farmers under the Pradhan Mantri Kisan Samman Nidhi (PM-KISAN) scheme via videoconferencing.
This is the first instalment of PM Kisan for the financial year 2021-22. During the session, the Prime Minister also interacted with six farmers from six states -- Uttar Pradesh, Andhra Pradesh, Meghalaya, Andaman and Nicobar Islands, Jammu and Kashmir, and Maharashtra.
Addressing the session, the PM said, "There is an invisible enemy in front of us. We have lost many of our close ones. The pain that the countrymen have endured, the pain that many people have gone through, I feel the same pain. Being your 'Pradhan Sevak', I share your sentiment."
The government, he said, is working on "war footing" to control the second wave of infections and is setting up new hospitals and oxygen generating plants while augmenting supplies of medicines and vaccines.
"Special trains are engaged in supplying oxygen to different parts of the country. Oxygen tankers and drivers are working without pause. Be it doctors, nursing staff, sanitation workers, lab technicians, ambulance drivers, sample collectors -- all are working 24 hours to save each individual," he added.
He further urged people to get vaccinated as it the best defence again Covid-19 and said that the Central and State governments are doing their best to increase vaccination.
"Free vaccination is being done in government hospitals across the country. So whenever your turn comes, make sure to get inoculated. This will give us protection and reduce the risk of serious illness," he said.
He called for people to guard against the disease, noting that the pandemic was fast spreading in the country's rural areas.
"I want to warn you about corona. This pandemic is spreading fast in rural villages. Every government is taking efforts to stop this. Awareness about this among rural people and cooperation of the panchayat institutes are equally important . You have never disappointed the nation. We hope this time too, to protect yourself and family from COVID, all necessary precautions are taken. Wearing mask properly and regularly is important," Modi said.
Modi urged farmers to be aware of this invisible enemy and take precautions and timely medication. He asked people to wear masks, maintain social distancing and undergo testing if they develop symptoms.
The PM asked farmers not to take COVID symptoms like cold and fever lightly. "Get the test done, isolate yourself and start the medication on time." After vaccination too, people should not forget to follow COVID appropriate behaviour, he added.
In his 23-minute address, the Prime Minister encouraged organic farming and said, "We are promoting organic farming because the cost of such crops is low, they are beneficial for soil and human health, and they also bring a higher price. Organic farming delivers more profit and is now being practised across the nation by young farmers."
On the occasion, the Prime Minister lauded the efforts of farmers who have produced a record quantity of food grains and horticultural products amid the difficulties during this pandemic. He said the government is also setting new records in procurement at MSP every year. Paddy procurement at MSP had set new records and now wheat procurement at MSP is also setting new records. He added that so far this year, about 10% more wheat has been procured at MSP, compared to last year. So far, about ₹58,000 crore for wheat procurement has reached the farmers' account directly.
Prime Minister Modi stressed that during this Covid-19 pandemic, the deadline for payment on Kisan Credit Card's (KCC) has been extended and instalments can now be renewed by 30 June. He said more than 20 million Kisan Credit Cards have been issued in recent years. KCC was introduced to ensure that the credit requirements for farmers in the agriculture, fisheries and animal husbandry sector were being met.
Under PM Kisan Samman Nidhi Yojana, the government transfers ₹6,000 a year to the accounts of small and marginal farmers. This financial assistance comes in three instalments of ₹2,000 each. Until now, ₹1.15 lakh crore has been transferred to farmer families under the scheme, a government release issued on Thursday said.
Close