'Poor Dr Harsh Vardhan': Jairam Ramesh on health minister's resignation
Published on Jul 07, 2021 04:42 PM IST
After quitting, former health minister Dr Harsh Vardhan found Congress leaders supporting him as Jairam Ramesh said the "good man" has been made the scapegoat.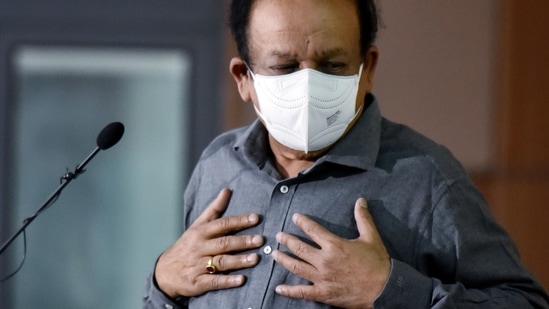 Amid speculations ahead of Prime Minister Narendra Modi's Cabinet reshuffle, health minister Dr Harsh Vardhan's resignation came as a surprise to many as PM Modi had praised the health ministry for its quick decisions regarding the management of the pandemic. While the resignation was being interpreted by observers as an admission that the pandemic could have been managed well, Congress leaders said Harsh Vardhan was made into a scapegoat.
Congress leader Jairam Ramesh took to Twitter and said Harsh Vardhan has been made a scapegoat for "monumental failures at the highest level -- nowhere else". The Congress leader also said the former health minister is a good man.
Congress leader Randeep Surjewala too extended defence for Dr Harsh Vardhan and said the National Disaster Management Authority, headed by PM Modi, is responsible for the criminal mismanagement of Covid-19. "Will PM take responsibility for his failures? Or, will PM only make Dr Harshvardhan the scapegoat for PM's failures?" Surjewala tweeted.
The Covid-19 pandemic was the biggest challenge for Dr Harsh Vardhan as the health minister. Apart from health, he also had two portfolios-- science and technology and earth sciences.
Follow live updates of PM Modi's Cabinet reshuffle
The Covid-19 pandemic has proved to be tumultuous for health ministers of several countries. For example, Brazil has seen four health ministers since the beginning of the pandemic. The Czech Republic has got five health ministers since the beginning of Covid-19. The United Kingdom too saw its health minister resigning after being embroiled in a controversy where he flouted social distancing norms.
While these have been direct casualties of the pandemic, Dr Hrsh Vardhan's role in managing the pandemic has always been highly praised by PM Modi. In his second stint as the health minister, Dr Harsh Vardhan, who is an ENT surgeon, also became a member of the World Health Organization executive board.
The pandemic brought Dr Harsh Vardhan to prominence as he was at the frontline shielding the government's Covid-19 management and Covid-19 vaccination policy. "History shall be kinder to you Dr Manmohan Singh ji if your offer of 'constructive cooperation and valuable advice was followed by your leaders as well in such extraordinary times," Dr Harsh Vardhan wrote to former prime minister Dr Manmohan Singh.