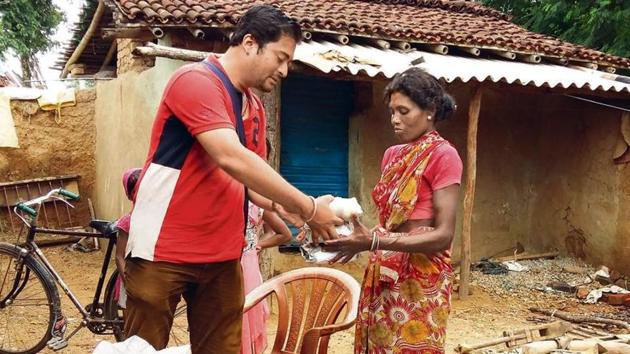 Putting a period on taboo around menstruation
'Padman' of Jharkhand Mangesh Jha visits villages every week to distribute free sanitary pads to rural women. Local adolescent girls have also joined him in his work
UPDATED ON JAN 09, 2018 12:40 PM IST
A woman in a remote Jharkhand tribal village was taken aback when a young man approached her with a pack of home-made sanitary pad, a modern convenience she hasn't heard, seen or used before.
She almost threatened Mangesh Jha, a 29-year-old hotel management graduate, as any conversation on menstruation is considered "shameful and uncomfortable" in rural India — especially with a complete stranger.
But the man who quit his job at a top hotel in 2014 to serve rural society persisted with his offer and convinced the poor woman to accept the packet.
The first set of sanitary pads that he distributed was stitched by his mother. Later, friends from Noida and local volunteers joined him in his mission to ensure hygienic menstrual practices in far flung villages of tribal-dominated Jharkhand.
Jha's crusade reflects a similar effort in far-off Tamil Nadu, where activist Arunachalam Muruganantham ran a mission to provide sanitary napkins to poor rural women. A Bollywood biopic on Muruganantham, starring Akshay Kumar, is set for release next year but the film's title, Padman, has already stuck on Jha.
People now call him the Padman of Jharkhand, and for good reason. An increasing number of women are switching to pads, handed out mostly by him.
It's been over a year now that Jha is visiting villages every week and distributing free sanitary pads for to the largely illiterate rural women. He has succeeded in persuading women in more than 600 households in villages near Ranchi to adopt sanitary napkins.
Raso Devi, a health worker in her mid-40s, said women in her village were initially reluctant to talk to Jha as menstruation is seldom discussed openly. But they shed their inhibitions gradually.
"The work he has been doing is commendable. Who thinks about the ordeals of village women these days? He is like a fellow villager for us," she said.
Jha isn't associated with any NGO, and relies solely on his earnings from a Ramakrishna Mission centre and donations from well-wishers to fund his independent initiative.
"I only see myself as a conscious citizen of the country, willing to walk the extra mile for rural citizens. Anybody can do this work. There is no rocket science involved," he said.
He is also a youth fellow at Unnat Bharat, working with the Indian Institute of Management (IIM) in Ranchi to develop the backward Gatarpo panchayat in Lohardaga, one of the 21 Maoist-affected districts in Jharkhand.
"I know distribution of sanitary pads cannot serve the larger purpose of making it a habit in rural areas. I am planning to set up a small manufacturing unit in a village to provide inexpensive pads to women," he said.
He can probably turn to the Padman of India, Muruganantham, who has built a low-cost machine to produce sanitary napkins in simple steps.
Every week, Jha travels to villages in Jonha panchayat, around 40km from Ranchi, with a bagful of sanitary napkins. Local adolescent girls have joined him in his mission. They spread awareness among women in the village when Jha isn't around.
The villagers know him and call him Mangru Dada, meaning elder brother, as most of them cannot pronounce Mangesh. He speaks fluent Nagpuri, a tribal dialect, and that helps.
Dharmi Kumari, a 22-year-old resident of Rasabera village, is one such new-found campaigner impressed with Jha's initiative. She speaks to the girls and convinces them to use sanitary pads.
"I have known Mangru Dada for nearly a year now. After seeing his motivation and sincerity I thought if a person from the city can do so much for menstrual hygiene in my village, why shouldn't I contribute too," she said.
The change in people's age-old perception is extraordinary as menstruation is considered impure in the countryside. From being barred from religious shrines to dietary restrictions and enforced isolation during their periods to a lack of access to toilets, women continue to face many challenges during menstruation.
Women have traditionally used scrap cloth from old saris or towels, adding a layer of sand, ash or rice husk for added protection during heavy blood flow.
"Women here used ash, husk, grass and even sand. Many suffered from urinary and reproductive tract infections," Jha said.
Last week, he was at Rasabera village, a hamlet of 200 people who don't have access to electricity. There is no road either and Jha walked miles along a narrow mud trail through jungles frequented by Maoist insurgents to reach the families.
He also visits Jidu, Jaratoli, Mungadih and Hondru villages — all backward hamlets with no civic amenities.
According to government health worker Patti Devi of Jaratoli village, Jha discusses problems of the local women and provides remedies. "We must put ourselves in their shoes for a day to know what they go through," he said, underscoring the plight of the rural women.
The Indian government had announced subsidised sanitary products for poor women, but the menstrual hygiene initiative has yet to reach the remote villages.
Close