Quad leaders to hold first summit on March 12: All you need to know
The first virtual summit of the leaders of India, Australia, Japan, and the US was announced by the external affairs ministry late on Tuesday night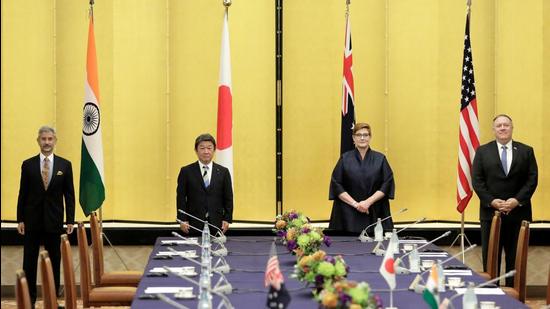 Published on Mar 10, 2021 09:38 AM IST
HT Correspondent | Edited by Sameer
Leaders of the Quadrilateral Security Dialogue are set to hold their first summit on March 12. Here is all you need to know about the dialogue:
• The first virtual summit of the leaders of India, Australia, Japan, and the US was announced by the external affairs ministry late on Tuesday night.
• It will be held about a year-and-half after the Quad was upgraded to the level of foreign ministers in September 2019 and reflects the desire of the group to present a united front to key challenges, including China's belligerence across the region.
Also Read | In message to China, Joe Biden to meet Australia, India, Japan PMs
• Prime Minister Narendra Modi will participate with Australian Prime Minister Scott Morrison, Japanese Prime Minister Yoshihide Suga. and US President Joe Biden in the "first Leaders' Summit of the Quadrilateral Framework, being held virtually", the ministry said in a statement.
• The leaders will "exchange views on practical areas of cooperation towards maintaining a free, open and inclusive Indo-Pacific".
• The Quad Summit will be an opportunity to exchange views on "contemporary challenges such as resilient supply chains, emerging and critical technologies, maritime security, and climate change", the statement added.
• The leaders will also review efforts to combat the Covid-19 pandemic and "explore opportunities for collaboration in ensuring safe, equitable and affordable vaccines in the Indo-Pacific region", the statement said without giving details.
• Reports have suggested that the other members of Quad could invest in India's vaccine production capabilities to expand the delivery of doses across the region, especially to counter China's vaccine diplomacy.
• India is the world's largest producer of vaccines and has supplied almost 58 million doses to 65 countries, including 7.7 million doses provided as grants.
Close Story