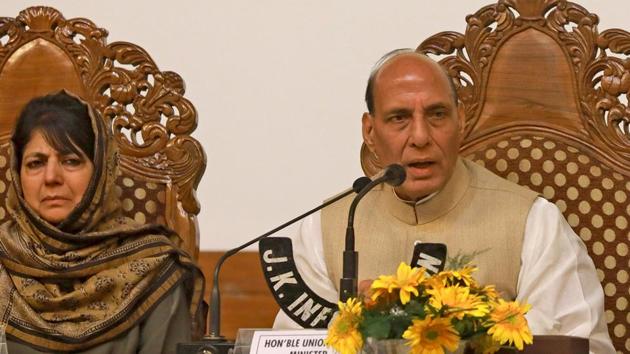 Rajnath Singh reviews Kashmir security, holds out hope for ceasefire extension
Rajnath Singh asked people to come forward for the peace process that the government had started by appointing an interlocutor.
Hindustan Times, Srinagar | By Mir Ehasn and Ashiq Hussain
UPDATED ON JUN 07, 2018 09:49 PM IST
Union home minister Rajnath Singh on Thursday said a decision to extend the suspension of anti-militancy operations in Kashmir beyond the month of Ramzan would be taken after talks with stakeholders and made an impassioned plea about the need to protect and nurture the children of Kashmir.
Singh who is on a two-day visit to Jammu and Kashmir to review the security situation in Jammu and Kashmir also asked people to come forward for the peace process that the government had started by appointing an interlocutor.
''We will sit, talk to CM, review the security situation but we can't rule out any possibility. Whatever we have to do we will do it after talking to people of J&K and reviewing situation,'' he said in reply to a question whether the ceasefire would be extended after Ramzan. He, however, said that there has been praise for the decision to suspend military operations.
The minister also chaired a high-level security review meeting to discuss the impact of the suspension of military operations during Ramzan with top security officials and J&K chief minister Mehbooba Mufti.
He also held separate meetings with Mufti and governor Narendra Nath Vohra.
Singh said that despite suspension of operations some forces don't want the situation to improve. "On the occasion of Ramzan, Prime Minister after deliberation decided for suspension of operations keeping in mind the people's feeling and suffering. I won't hesitate in saying that our security forces worked with patience,'' he said adding that some people are trying to use children as cannon fodder.
"Children are children and their career shouldn't be put at stake."
Without directly naming any one, the minister said that some people want our children should only play with fire and stones. "I want to appeal from the core of my heart to everybody to consider Jammu and Kashmir's children as your own. Whatever politics you want to play, do not do it at the cost of children. These children are not only the future of Jammu and Kashmir but of the entire nation.''
Rajnath Singh also said that the government has granted amnesty to 10,000 children who were first time offenders as stone pelters. ''We should not discriminate between our own children and the children of others,'' he said.
In a veiled reference to separatist leadership, he said providing education to their own children and then handing stones to children of others was not humanity. "What sort of justice is this? Is this humanity? There should be impartiality in every sphere.''
The minister said the Centre had appointed a special representative to talk to all stake holders to bring peace to the state. "He (interlocutor) was not sent for picnic here. He visited Kashmir 11 times. I want to appeal again to the people here to come forward and not lose another generation to darkness.''
Rajnath Singh said that dialogue could happen with everybody. 'It is not necessary to be 'like-minded' for talks but it is necessary to be 'right-minded'.''
"I want to ask, do people with guns believe in democracy? Today PM Modi said we want to find a solution with an embrace. What do you want? When we talk of Kashmiriyat, it is Hazratbal as well as Amarnath.''
He also took a swipe at Pakistan. "I don't know what has happened to our neighbouring country. We said that we will talk to everybody. But Pakistan doesn't stop terrorism from its soil," he said.
On the Hurriyat's statement that the government needs to talk in 'one voice' about teh talks, Singh said, "The solution of Kashmir problem won't take much time now. This problem will get a solution. Our government work with a firm conviction and will find a solution for sure.''
Earlier in the day, addressing a Sports Conclave at the indoor stadium, Singh said that in the past, the situation in Kashmir ended the careers of many budding sportsperson prematurely.
"Now we are giving opportunities to the youth who have talent in various fields of sports.''
Amid applaud from hundreds of youth who had come from different parts of the Valley, he felicitated local players like Parvez Rasool, Manzoor Ahmad, Mehraj ud Din Wadoo, Palak Kour, Balveen Kaur, Surya Bhanu and members of Real Kashmir Football Club.
Close