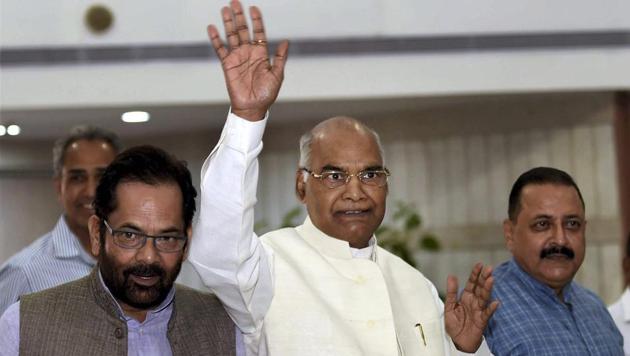 Ram Nath Kovind: From virtual anonymity to front-runner in presidential race
Kanpur-born Ram Nath Kovind's CV has few highlights – a law graduate who cleared Civil Services Examination but did not join and personal associate to Morarji Desai.
UPDATED ON JUL 17, 2017 02:03 PM IST
A two-time Rajya Sabha MP, former BJP spokesman and till recently the Bihar governor, Ram Nath Kovind has never been part of the Lutyen's Delhi until the limelight was thrust upon him when the ruling party announced his name as its Presidential nominee last month.
And come July 20, he will be set to occupy the most palatial building in the leafy central Delhi – the Rashtrapati Bhawan as India's 14th President.
As a member of the upper house, Kovind was allotted 53 South Avenue flat. As Bihar governor, 144 North Avenue flat was his home in Delhi. And between the two addresses lies the Rashtrapati Bhawan.
The 71-year-old's journey from South Avenue to the President's office has been so nondescript that it caught almost everyone on the wrong foot. People in newsrooms franticly searched on Google who Ram Nath Kovind was when BJP president Amit Shah announced his candidature. He wasn't too familiar to politicians outside the BJP.
The Kanpur-born politician's CV has few highlights – a law graduate who cleared Civil Services Examination but did not join and personal associate to Morarji Desai before he became PM.
It's his modest background that Prime Minister Narendra Modi chose to highlight on June 19 when the BJP nominated him.
Modi wrote on Twitter:
As national spokesperson of the BJP between 2010 and 2012, Kovind addressed just three press conferences – all of them having less than an impressive attendance.
"Heavyweight spokesmen overshadowed him," a BJP leader who worked with Kovind in the media department told HT. "He wasn't a favourite in TV studios. He was too simple to spice up on-screen debates." Kovind would not engage "off-the-record" talk and limit himself to the briefing, whatever he had, from the party brass.
There wasn't much space in the media cell office at BJP headquarters and Kovind used to be the last one to jostle for a room. It wasn't a big deal for him if could not find a seat in the media cell. He had very few visitors to attend.
Life took a turn for Kovind in 2013. Narendra Singh Tomar, then BJP's general secretary in-charge for Uttar Pradesh, wanted a suave Dalit leader in Lucknow. Kovind was asked to shift base to Uttar Pradesh. It wasn't an easy call for him but Kovind decided to accept what destiny had decided for him.
As luck would have it, Amit Shah soon replaced Tomar as the party's in-charge in Uttar Pradesh. Shah took total control in no time, working overnight to plan a Dalit-OBC outreach. Kovind came in touch with him for the first time.
Kovind had known Modi since his days as sangathan mantri (organisational secretary) of the BJP, but had no interaction with Amit Shah. Kovind built a rapport with Shah in Uttar Pradesh with his no-nonsense politics.
In Bihar, his association with chief minister Nitish Kumar remained peaceful. "Kovind did not let Raj Bhawan become an extension of the BJP," JD(U)'s general secretary KC Tyagi told HT. "This was one facet of his personality that also impressed Nitish Kumar."
But as he prepares to maek the transition from the raj Bhawan to the Rashtrapati Bhawan, Kovind will have the challenge to fit into the big shoes of Pranab Mukherjee.
Read| Ram Nath Kovind or Meira Kumar: Presidential election 2017 live updates
Close