Ram temple issue in BJP manifesto draws flak from opponents in Mathura
Feb 02, 2017 01:25 PM IST
The Congress alleged that the BJP was cashing in on the issue before the upcoming UP assembly elections.
The building of Ram temple in Ayodhya which was brought up by the Bharatiya Janata Party (BJP) in its manifesto for the Uttar Pradesh assembly elections has drawn sharp criticism from political opponents in Mathura with the Congress alleging that the party is "cashing in" on the issue.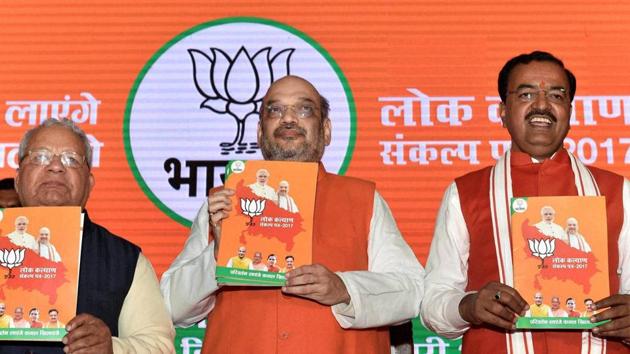 "The BJP recollects temple issue only during the elections, since it wants to cash in on it," Pradeep Mathur, the Congress candidate from Mathura assembly constituency said.
Mathur said people will not be misguided anymore as they had figured out that it was a "jumlewali" party.
The BSP candidate, Yogesh Dwivedi, accused the BJP of using the Ram temple issue as a trump card in the assembly polls, starting from February 11.
"Why the BJP has not raised the temple issue in over two and a half years, even though the party is having its government at the Centre....BJP considers Ram temple as a trump card to win the elections," he said.
The BJP national spokesperson Shrikant Sharma slammed the opposition over the issue, saying it was incorrect that the party only remembered the Ram temple during elections and that "it is a matter of faith, away from politics".
"It was an issue for BJP, and would continue to remain so till the magnificent temple is constructed in Ayodhya," he asserted, adding that the temple will be constructed within the framework of the Constitution
RLD candidate from Goverdhan assembly constituency Kunvar Narendra Singh said, "The temple issue has been raised again through election manifesto by BJP simply to cash in on religious feelings of the people through votes."
Another RLD candidate, Ashok Agrawal, who is contesting from the Mathura constituency said the temple should only be constructed with the conscientious of Muslims. "I am also in favour of the temple in Ayodhya, however, it should not be constructed hurting feelings of a sect and it should be constructed only with the conscientious of Muslims," he said, alleging that the BJP wanted to polarise the votes by raking up the issue.
The first phase of polling for Uttar Pradesh assembly will begin from February 11.